The Anna Lindh library is a modern university library and we can help you with a lot of questions about literature and publication during your research process.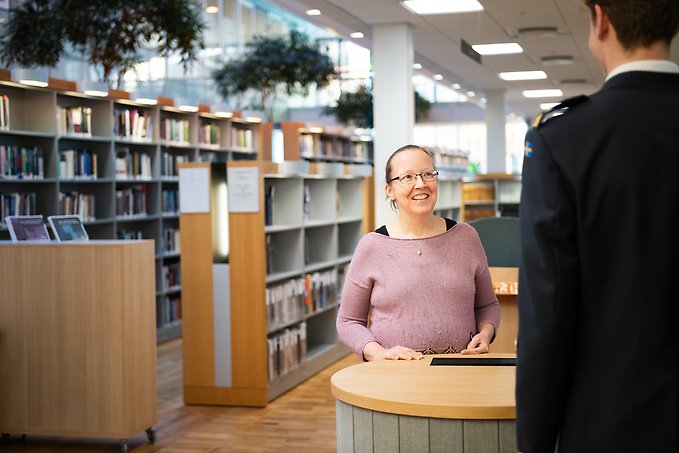 Research support at MittFHS
All information regarding research and research support can be found at the Swedish Defence University´s intranet MittFHS where you can read about everything, from application and financing to research publication.
» For researchers (in Swedish)
Are you a researcher or doctoral student?
If you are a researcher or a doctoral student your are most welcome to us with questions regarding publication of scientific works, reference management applications, publication databases and bibliometrics. Bibliometrics is the use of statistical methods to analyse books, articles and other publications.
Obviously we also want to support you in your scientific information retrieval. 
Book your research support
As a doctoral student or researcher at the Swedish Defence University you can book individual tutorial in information retrieval and management. During an hour we will help you get started by showing how to register publications in DiVA or how to handle citations in the reference management application Mendeley.
We have tips for you on how to find scientific articles and help you structure your information retrieval process. If you have questions about search technique and keywords or choice of search tools you are welcome to us.
» Book your tutorial by filling out this form
Publication and DiVA
We who work with research support can be helpful to you when looking for a suitable channel for publication. The library can be supportive when judging different open access journals. If you need an ORCid we can help you.
The library manages the publication database DiVA of the Swedish Defence University and we can support you with handling publications in DiVA. We can help you check up on if your planned publication follows your financier´s requirements for open access.
Bibliometrics
At the library we produce bibliometrics primarily for the annual report and for the distribution of funds. Using bibliometrics you can, for example, watch patterns in publication or citations from an article or an author.
Reference management apps
If you need help with reference management the library can support you via the application Mendeley which comes in a free version.
Interlibrary loans and purchase requests
If what literature you need for your research does not exist in the library we will order it through interlibrary loan or purchase it.
» Contact us with purchase proposals
» Read more about interlibrary loans
Tips: digital support by PhD on Track
PhD on Track is a resource from Norway that can be of assistance if you are in the start of your doctoral project but also if you are just thinking about becoming a doctoral student. The web site will tip you how to learn more about your area and judge the literature available. PhD on Track also describes how to manage references. The side can give advice about publication and Open Access. PhD on Track has certain pages about bibliometrics but they are more directed to Norway and Denmark.