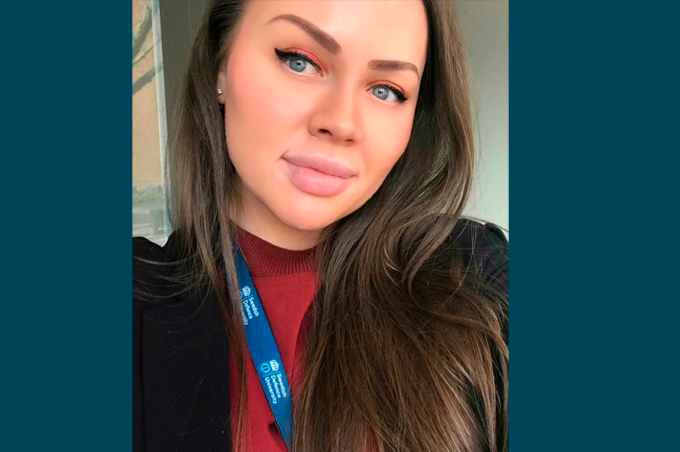 "The Language Workshop provided fantastic help with my thesis project"
Anyone studying at the Swedish Defence University can turn to the Study and Language Workshop at Stockholm University for help. One person who has done so is Margarita Sallinen, a student in the Politics, Security and War master's programme. We asked her a few questions.
What was it like to get supervision from the educators at the Study and Language Workshop?
"It's a fantastic opportunity to get help with your thesis from another university and hear so many other perspectives from professional educators! For example, how you choose to structure certain parts of a master's thesis is clearly a matter of taste and preference for both the author and the reader, but I think you should be open to constructive feedback and be willing to listen even if you think differently."
Brainstorming
"For me, the meetings themselves exceeded my expectations. My supervisors were very nice, pedagogical and solution-oriented. The supervision appointments felt like brainstorming sessions where we went through their feedback together, and if I had any questions that couldn't be answered, we tried to figure them out together. A meeting lasts about 45 minutes. After the first meeting, I was so pleased with the help I'd gotten that I booked two more appointments (you can book a maximum of three meetings for a master's thesis)."
Constructive feedback
I also remember that during my last supervision appointment I received very constructive feedback that made me rethink a large part of my thesis. Among other things, the supervisor I e-mailed me some thesis examples that I could use for guidance. She also pointed out passages in my own thesis that could be improved and gave me concrete tips on how to proceed. This feedback significantly improved my thesis.
How did you first hear about the Language Workshop?
It was our study counsellor Desirée Hervard who tipped me off when I had just started my master's thesis. When I mentioned my expectations and which parts I found challenging, she thought I should make an appointment for supervision.
What made you want to try out the Language Workshop?
On the one hand, I had specific questions about formalities and language that I didn't want to focus on during my limited time with my designated supervisor at FHS. You need that time for guidance about content, help with theory selection and method selection, etc. I also wanted to hear the opinions of as many people as possible about what could be improved."
Can you describe the process?
You send an e-mail with some information about yourself and what you are studying and of course information about what you want help with. Then you are assigned a supervisor with whom you book a supervision meeting. The appointments were over Zoom, so you need to have a computer and internet access. Then two days before the meeting you send in what you want to have your supervisor look at, so that they have time to prepare before the meeting."
Focus on certain parts of the thesis
"You should keep in mind that the supervisor won't go through every single sentence of what you've written - especially if, like me, you have a 60-page thesis. The supervisors concentrate on the parts of the thesis you said you needed help with and then start from there. You can ask for the same supervisor all three times if you want, but since I asked for very specific times and dates, I was assigned three different supervisors (which can also be an advantage, because you get input from many perspectives)."
Would you recommend the Language Workshop to other students?
I would strongly recommend that other students use the Language Workshop. It's a fantastic resource that I wish I had known about earlier in my studies. You can get professional help with academic writing, study techniques, and references, as well as tip-offs on materials to read. I am incredibly grateful that students at FHS have this resource, and I think that we should take advantage of it. It's also completely free!"
All sorts of writing tasks
The Language Workshop's supervision service is available to everyone, not just master's students. The Language Workshop helps with looking at all kinds of "writing tasks", ranging from short, one-page memos to more advanced assignments and master's theses. You can choose whether you want to have supervision in English or Swedish. You can even get help with oral presentations!"
Provides tools
"It's important that you make sure you write exactly what you need help with, so that the Language Workshop can decide if it's something they can help with. The Language Workshop is careful to emphasise that you must have written an independent work and that they don't correct anything for you, but that they can give you the tools and tip-offs you need so that you can improve what you've written and take it to the next level."
Read more about the Study and Language Workshop on Stockholm University's website.