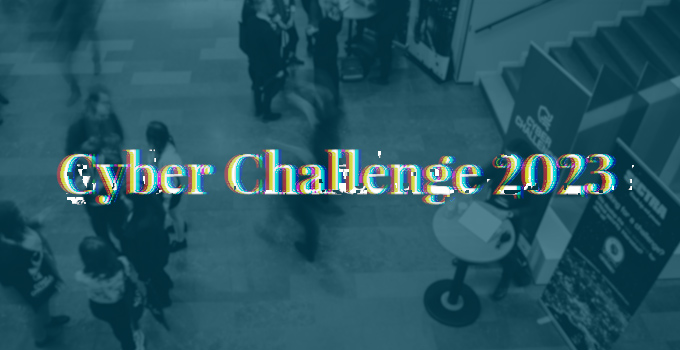 Cyber Challenge - Side events
The Swedish Defence University hereby invite all students, both participants and non participants in the competition, with different academic backgrounds to join the side events in connection to the competition Cyber Challenge on February 9, 2023.
The side events during Cyber Challenge is a great opportunity to get knowledge about the companies' and agencies operations and what they are looking for in a future employee. We will host a recruitment plaza as well as inspirational lectures with our sponsors, where you can meet and get inspired by them.
Participating Actors
Knowit
SentinelOne
Saab

Sectyne

Nixu
Sectra
Basalt
Sylog
Polisen (Swedish Police)
Säkerhetspolisen (Security Service)
FRA (National Defence Radio Establishment)
Post- och telestyrelsen (The Swedish Post and Telecom Authority)
Försvarsmakten (Swedish Armed Forces)
MSB (Swedish Civil Contingencies Agency)
FMV (Swedish Defense Material Administration)
When: Thursday, February 9, 2023 between 09.00-17.00
Where: Försvarshögskolan, Drottning Kristinasväg 37, Stockholm
Inspirational Lectures
Take the opportunity to listen to inspirational lectures by our Sponsors and collaboration partners.
Saab, SentinelOne, Sectra and National Cyber Security Centre Sweden and the Swedish Defence University will give inspirational lectures live from Sverigesalen, as well as live on Zoom, during the afternoon.
12.30-12.50 Cyber Security at Saab - Hanna Egelstig - Saab Group
13.00-13.20 Cryptography – There is Still no Security Without Trust - Sectra, Niklas Johansson
13.30-13.50 Purpose built to prevent tomorrow's threats today- SentinelOne, Nicklas Helleday
14.00-14.20 Policy to protection- Typical cybersecurity challenges along the way - National Cyber Security Center, Sweden, Robin Blokker.
14.30-14.50 'Ukraine War - Cyber Operations in Perspective', Swedish Defence University, Alan Sewell
Nixu, Knowit and Basalt have pre-recorded their inspirational lectures. We will publish their lectures here.
All inspirational lectures will be in English.
Recruitment Plaza with the Sponsors 09:00-17:00
Meet representatives from the sponsors and agencies.
Knowit - Emma Enoksson, Carlos Marjasin & Pontus Engström
SentinelOne - Patrick Reischl
Sectra - Henrik Lenger & Niklas Johansson
Saab AB - TBA

Basalt- TBA
Nixu - Marie Lehto och Silja Kiiskinen
Polisen (Swedish Police)
Säkerhetspolisen (Security Service)
FRA (National Defence Radio Establishment) 
Post- och telestyrelsen (The Swedish Post and Telecom Authority)
Försvarsmakten (Swedish Armed Forces)
MSB (Swedish Civil Contingencies Agency)
FMV (Swedish Defense Material Administration)