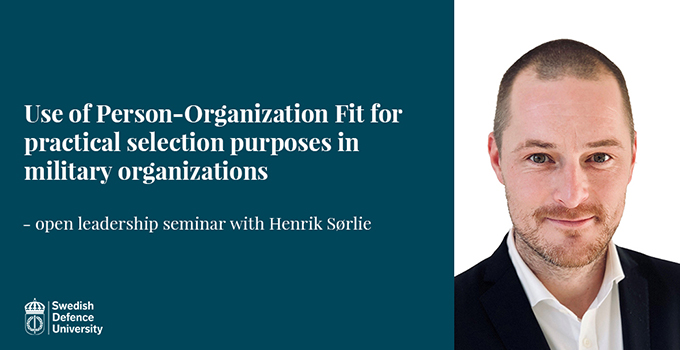 Use of Person-Organization Fit for practical selection purposes in military organizations
This seminar focuses on Person-Organization Fit (P-O Fit), which is the value congruence between people and the organizations in which they work, and the possibilities for use of P-O Fit for personnel selection. Intelligence and personality are commonly used for personnel selection since they consistently predict job performance. P-O Fit also relate positively to job performance, but research on practical use for selection purposes is scarce.
Two recent studies that address this gap will be presented. In the first study (published), the utility of indirectly measured P-O Fit was examined in a military selection context. P-O Fit yielded incremental predictive validity, beyond that of Intelligence and Big Five, on Work Engagement and Task Performance. In the second study (in preparation), multilevel modelling was applied to daily measures from naval cadets. In view of the Job-Demands Resources framework, findings suggest P-O Fit as a key resource that facilitates activation of the situational job resource Autonomy, thus enhancing performance. Further practical, methodological and theoretical issues will be discussed at the seminar.
Presenter
Henrik Sørlie, PhD candidate in psychology and army officer, University of Bergen, Department of Psychosocial Science and Norwegian Defence University College, Command and Staff College.
Organizers
This a joint seminar, organized by the Swedish Defence University, Division of Leadership, and Stockholm University, Division of Work and Organizational Psychology.
When
Monday 12 October 2020, at 13.00-14.30 (presentation and discussion)
Where
Zoom (link will be send to those who has registred below)
Language
Presentation and discussion in english
You cannot register any longer. Registration closed on 9 October at 12.00.
More information about the event