Conference and Multiplier Event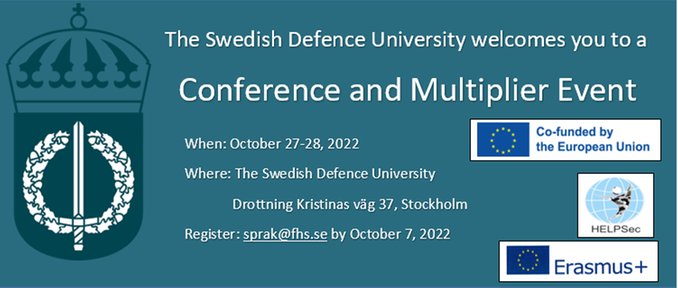 The Swedish Defence University's Language Division within the Department of War Studies and Military History is organising an International Conference on English for Multinational Military Cooperation (ICEMMC).
Our particular focus will be:
Safeguarding small-state identity when teaching military English
The event will gather national and international experts on English language teaching within military and defence settings. Of particular interest is experience of teaching military English to L2 users. This conference encourages the participants to share knowledge and experiences within their area of expertise.
The event takes place the 27 and 28 of October 2022 at the Swedish Defence University in Stockholm, Sweden. Elements of the conference will be hybridised.
The conference will also serve as a Multiplier Event for the Erasmus+ project for Strategic Partnerships in Higher Education titled HYBRIDISATION OF SPECIALISED ENGLISH LEARNING FOR SECURITY PROFESSIONALS - HELPSec. The event will showcase the new hybrid English course and participants can trial materials in hands-on workshops.
Agenda Multiplier Event
Word, 1.1 MB.
More information about the event
Date:
Oct 27, 2022—Oct 28, 2022
Location:
Försvarshögskolan, Drottning Kristinas väg 37, Stockholm
Contact:
Karolina Karlström