International Law of Military Operations
The advanced course in International Law of Military Operations allows you to deepen your knowledge of the international legal system with a special focus on issues related to crisis and conflict. The course also gives you the opportunity to apply a legal methodology to the course's central component which is the writing of an essay.
The course is divided into three modules, two of which are taught course sections and the third, a supervised essay (thesis).
International Law Aspects of Military Operations
The course begins with an in-depth look at the UN Charter, with particular focus on the use of force, human rights in situations of conflict and crises with a focus on the use of force and detention, international humanitarian law and responsibility issues under international law.
Legal Methodology
The second module reviews legal method and methodology with the aim of preparing students for the essay component of the course. Within the framework of this part, you will be acquainted with methods to identify international law sources, study various sources of law and how they are interpreted. In this part, you are also given the opportunity to begin the formulation of the legal problem which will form the basis for the future work of your thesis.
Thesis
The third component of the course is the writing of a thesis. Work on essay writing provides an opportunity to deepen your knowledge of a particular international legal issue. It also gives you an opportunity to learn through application of the legal doctrinal method for solving international law problems. The essay writing component puts high demands on independence and requires the student to plan the timing and scope of the work. The thesis work is supervised and the course will end with a final seminar where you will be required to defend your thesis and act as opposition on another student essay.
The advanced course in International Law of Military Operations is aimed at people who are interested in normative approaches to the central issues connected to crisis and conflict.
Starting Term
Autumn Term 2023
Study Period
2023 week 35 - 2024 week 2
Requirements
The courses Responsibility in International Law - Intermediate Course, and Law of Armed Conflict - Intermediate Course, or equivalent.
Language of Instruction
The teaching is conducted in English.
Contact

If you have questions about the course, please contact the Study Counsellors.
You can reach us by e-mail: studievagledning@fhs.se
Discover the Swedish Defence University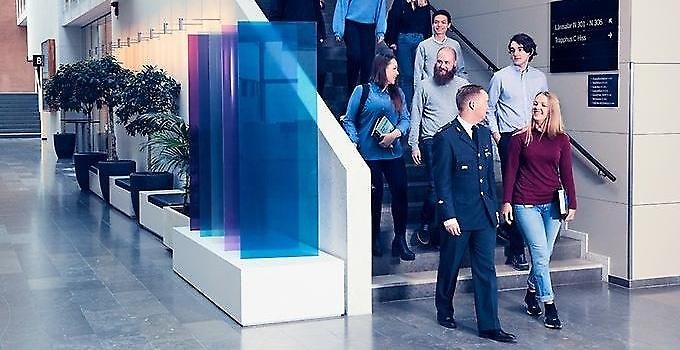 Studies at Swedish Defence University - a both civil and military university - offers a completely different experience compared to most other universities.