Strategic Management of Capability Development and Defence Acquisition
This course describes how Sweden and other countries organise and plan their innovation, the long-term supply of defence materials and capability development. The course will contribute to your understanding of how Swedish defence acquisition is implemented as a support to capability development, and the roles of the various organisations involved in these processes.
Capability development also demands collaboration with other countries. The course therefore deals with the importance and impact of defence exports, defence materials collaborations, offset, the transfer of technologies, and international standardisation work.
After completing the course, you will be able to:
explain the planning and implementation of Swedish defence acquisition for the purpose of creating capabilities, as well as the roles of the various stakeholders; This should be described by setting the Swedish approach in an international context in which the Swedish approach is related to that of other countries;
apply internationally accepted scientific theory to describe and analyse processes for defence acquisition and capability development and how these interconnect;
individually and in small groups, demonstrate the ability to identify and relevantly frame the question of what leads to a military capability, and subsequently choose relevant analytical methods with consideration for the complexity of the task and the decision horizons involved;
demonstrate the ability to analyse and assess on what grounds decisions and standpoints are taken in order to drive a process that leads to a capability that facilitates a military effect; and
discuss theories and methods for studying the management of strategic capability development.
Starting Term
Spring Term 2024
Study Period
2024 week 13 - 22
Teaching Method
Teaching is conducted as lectures, guest lectures, independent study and seminars.
Requirements
Passed courses of at least 180 credits that include - at least 7,5 credits in the field of Defence, Crisis management and Security, - written thesis project including of at least 15 credits, and knowledge corresponding to English 6 (English B).
Language of Instruction
The teaching is conducted in English.
Contact

If you have questions about the course, please contact the Study Counsellors.
You can reach us by e-mail: studievagledning@fhs.se
Discover the Swedish Defence University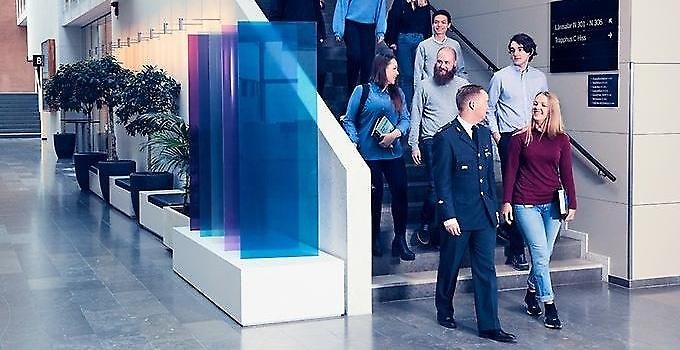 Studies at Swedish Defence University - a both civil and military university - offers a completely different experience compared to most other universities.