Open Lecture: Dr. Maya Eichler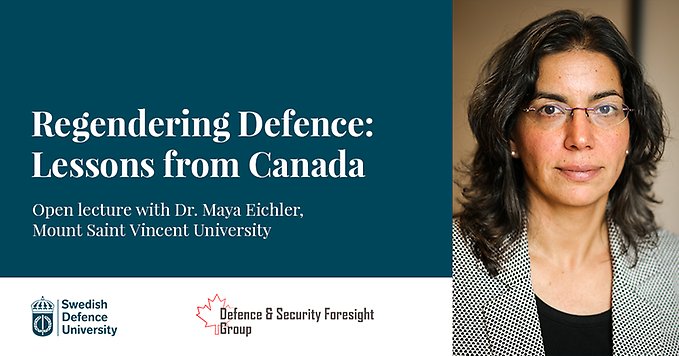 The Gender, Peace & Security Working Group at the Swedish Defence University hosts an open lecture with Dr. Maya Eichler, Mount Saint Vincent University (Canada).
The topic of the lecture is Regendering Defence: Lessons from Canada.
When it comes to gender and the defence sector in Canada, the past five years have brought exciting changes as well as many reminders of how little has changed. The speaker will share lessons learnt from the Canadian perspective about how we can move towards a regendering of defence.
More about the lecturer
Maya Eichler holds the Canada Research Chair in Social Innovation and Community Engagement and is an associate professor of Political Studies and Women's Studies at Mount Saint Vincent University in Halifax, Canada. Her current research focuses on gender and the armed forces, military sexual violence, and military-to-civilian transitions. She leads the Gender-Based Analysis Plus (GBA+) team of the Canadian "Defence and Security Foresight Group.
Read more about her work at the Centre for Social Innovation and Community Engagement in Military Affairs.
More information about the event
Location:
Swedish Defence University, Leijonsköldska
Contact:
Annick Wibben , +46 8-553 42 941, annick.wibben@fhs.se