PhD Defence: Akinbode Fasakin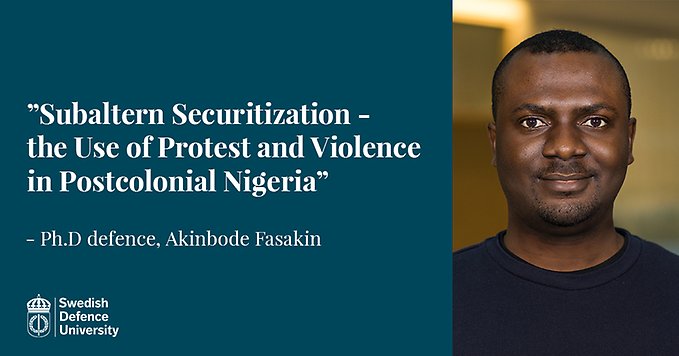 On January 28, Akinbode Fasakin defends his PhD thesis "Subaltern Securitization - the Use of Protest and Violence in Postcolonial Nigeria".
How do the subaltern that suffer from security silence problem make their security concerns a matter of (inter)national security? Under what conditions are the subaltern able to speak security successfully or securitize threat to their security? This thesis draws on elements of securitization theory and the Fanonian decolonial theory of emancipatory violence to answer these questions. By so doing, the thesis contributes to our understanding of the dynamics of subaltern securitization process, particularly in a non-Western postcolonial context.
Akinbode Fasakin is a doctoral student in Political Science at the Department of Security, Strategy and Leadership at the Swedish Defence University. He is defending his PhD thesis at the Department of Economic History and International Relations, Stockholm University.
More information about the event
Location:
Stockholms universitet