Strategic Talks: Perspectives on the war in Ukraine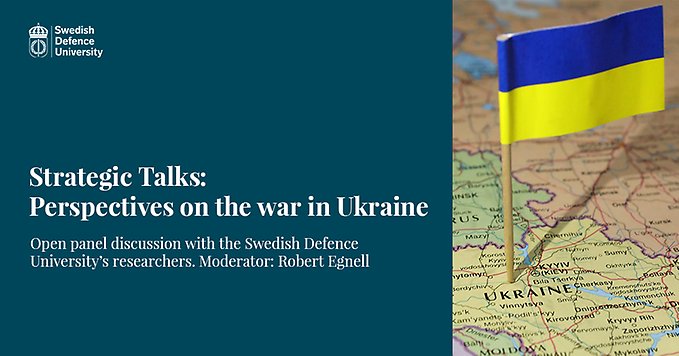 The Vice-Chancellor Robert Egnell invites all students and staff to a panel discussion were three of the Swedish Defence University's researchers will give their perspective on the war in Ukraine. The seminar is broadcasted live as a webinar open to the public.
On February 24 Russia launched an unprovoked and illegal invasion into Ukraine. "While it is still very early days, it is nonetheless time to discuss early findings and implications of this horrific war. In the Strategic Talk series on Ukraine, we will have the chance to meet different experts with the ability to broaden and deepen the analysis of ongoing operation, to provide multiple perspectives on the war, and assess early findings and implications", says Vice-Chancellor Robert Egnell.
Some if the questions that will be discussed are:
What are the most important surprises in the conduct of early Russian operations and what are the implications?
As the fighting moves into the cities – what are the tactical and legal implications?
How is the international system facing the attack on Ukraine and the international order?
Can we say anything about the long-term geostrategic implications of the war?
Moderator:
Vice-Chancellor Robert Egnell
Panelists:
Kjell Engelbrekt, Professor of Political Science. Engelbrekt's research interests revolve around the issues of trans-Atlantic security, great power diplomacy and rivalry and European security policy.
Heather Harrison Dinniss, Senior Lecturer in International Operational Law. Harrison Dinniss is an expert on international legal regulation of the use of force, law of armed conflict and legal aspects of cyber operations.
Niklas Nilsson, Associate Professor and Senior Lecturer in War Studies. In his research Nilsson has studied, among other things, hybrid warfare, asymmetrical threats and military operations. He takes a particular interest in the former Soviet states.
Live webinar
Please note that the seminar will be broadcasted live as a webinar open to the public. Watch the webinar here.
The seminar is broadcasted from Sverigesalen and students and staff are welcome to participate .
More information about the event
Contact:
Camilla Magnusson , 08-553 42 736, camilla.magnusson@fhs.se