Winter symposium: The future of Ukraine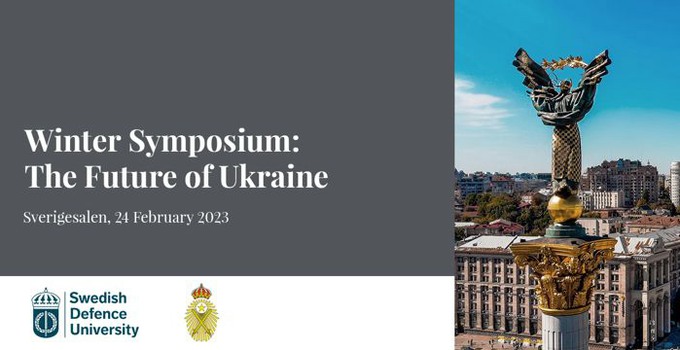 The symposium is a joint arrangement between the Swedish Defence University and the Royal Swedish Academy of War Sciences.
This year the symposium is dedicated to the war against Ukraine, the important issue of holding Russia accountable for its actions and the rebuilding of Ukraine.
Register to participate on site
Seats are limited, please register at the Royal Swedish Academy of War Sciences web site.
If you do not have the opportunity to attend in person, you are welcome to participate in our online broadcast via Zoom
Programme
PLEASE NOTE that the first panel will start approximately 10-15 minuter earlier than original programme.


09.00 Introductory note
Björn von Sydow, President of the Royal Swedish Academy of War Sciences
Robert Egnell, Vice-Chancellor of the Swedish Defence University
Guest of Honour: Andrii Plakhotniuk, Ambassador Extraordinary and Plenipotentiary of Ukraine to the Kingdom of Sweden
09.35 Holding Russia responsible
Keynote: Dr Anton Korynevych, Special Envoy, Ministry for Foreign
Affairs, Ukraine
Comments: Fredrik Wesslau, Swedish diplomat, former Deputy Head of Mission for the European Union Advisory Mission in Ukraine
Moderator: Marie Jacobsson, Principal Legal Adviser on International Law at the Swedish Ministry for Foreign Affairs
10.30 Coffee
11:00 Rebuilding Ukraine: Principles and policies
Keynote: Dr Torbjörn Becker, Director of Stockholm Institute of Transition Economics (SITE)
Comments: Kristian Andersson, CEO and Chairman of the Management Board at bank SEB in Ukraine
Moderator: Kjell Engelbrekt, Dean at the Swedish Defence University
11:45 Closing remarks
Fredrik Löjdquist, Director of the Stockholm Centre for Eastern European Studies
More information about the event
Location:
Online or Sverigesalen in the Swedish defence University, Drottning Kristinas väg 37, Stockholm