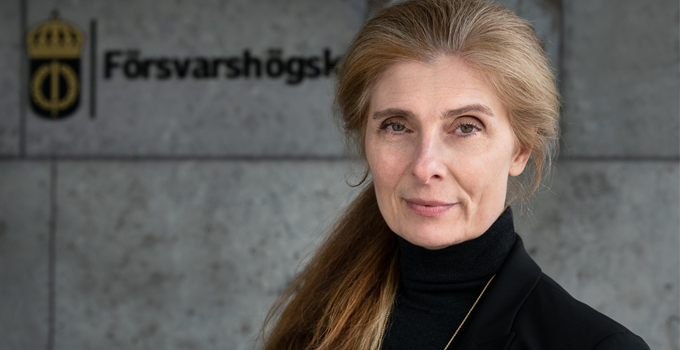 "I appreciate people with perspective"
She likes people, but is not one for idle socialising. She genuinely enjoys work, is strongly driven and highly results-focused. Fittingly, Christina Zander has got off to a flying start as the new University Director of the Swedish Defence University.
The calendar is packed with video meetings and a couple of hefty commissions of inquiry have already landed on her digital desk, including one into how we will be working differently post-COVID. Christina Zander has landed in her new role mid-pandemic with virtually all of her colleagues working remotely, while at the same time the Swedish Defence University is undertaking extensive development work to equip the institution to take its place as one of the first among equals. A stressful situation, one might think. Not for someone who loves hard work, who is goal-oriented and has a tendency towards restlessness, who might even be described as slightly impatient.
"I have managed to temper the worst of my restlessness over the years. When I was younger, I could probably be perceived as slightly intense. I am still driven though and I genuinely love to work," says Christina Zander, who relates how, as a young director of student affairs, she zealously presided over a network of more experienced colleagues from other higher education institutions.
Important with different aspects
"I'm sure they thought I was a bit cocky. Like most people, I became somewhat more circumspect and humbler over the years. Above all, I think that it's important to have perspective, an ability to see different aspects of an issue. I try to do so myself and I appreciate it in others. At a higher education institution, this may be a matter of the administration understanding the faculty's perspective and vice versa. Or that university-wide and local support functions can view administrative processes from each other's points of view.
I respect people who are themselves and who, like me, are not afraid to get straight to the point. To make this work, I make sure I create a secure environment in which everyone's views count," says Christina Zander.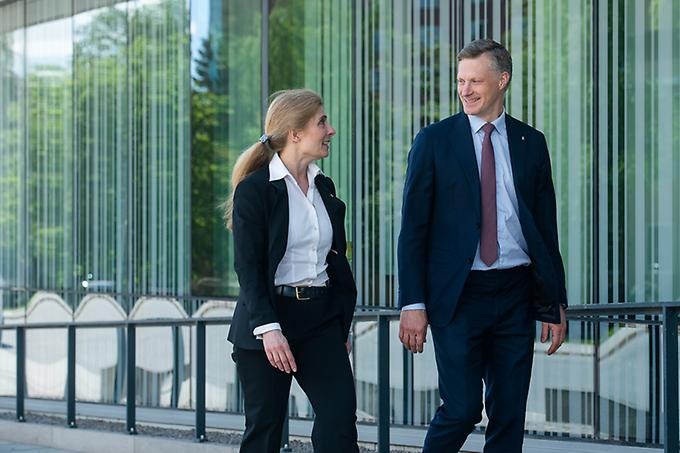 Applied sociology and economics
Alongside her job, Christina also studied at Stockholm School of Economics, graduating with an Executive Master's Degree in Business Administration. However, her first-cycle studies were in applied sociology at Stockholm University, where she also worked as a teaching assistant in statistics.
"I enjoy figures and statistics and I was the teaching assistant who was most familiar with regression analysis. I taught a good deal in that."
While she describes herself as an introvert, on first impression she is anything but.
"I like people. And talking. But I have no great need for social contact – I'm not really one for fika. That said, compared to my husband I'm extremely extroverted," she adds, laughing.
Having taken up her post as University Director at the Swedish Defence University at the beginning of May, Christina is now ensconced and has made her mark on the office on Drottning Kristinas väg. On a small table lies a collection of ergoholds, small decorative holds used on climbing walls. She says that they are symbolic. In the window sits an orange Buddha – the artwork Minitrans by Fredrik Wretman – a prize from the art club at one of her previous employers, the Stockholm School of Economics, where she worked between 1990 and 2013 in a variety of roles, including the aforementioned post of director of student affairs. She was recruited to SSE to establish and build up the school's international exchange programme and while there she negotiated and signed agreements with 20 universities around the world.
Drawn to academic environments
The majority of Christina's working life has been dedicated to the world of higher education.
"It's incredibly stimulating to be part of an environment and an organisation in which one constantly creates new knowledge and cultivates critical thinking. Higher education institutions have a central role to play in striving towards sustainable development. If we are to meet the challenges facing humankind, we must educate ourselves and seek new knowledge on all levels," says Christina Zander.
Christina joined us from KTH Royal Institute of Technology, where she was Head of Administration at the newly established School of Electric Engineering and Computer Science, with double the turnover and twice as many staff and students as the Swedish Defence University. Having previously held the same post at KTH's School of Information and Communication Technology, one of three merged to form the new school, her role included overseeing the merger of the three administrations.
"Merging three to some extent different cultures and their various processes was a major challenge. As is often the case in change processes, there was strong resistance."
A time of change
She arrives at a time when the Swedish Defence University's journey of development is picking up pace.
"While changes can be made quickly on paper, they need time to bed in. What you – we – have done and are doing is like going around the world in 180 days. Even if I have experience of major change processes, i would like to emphasise that no two journeys of change are alike. Communication is important, both horizontally and vertically. Transparency, dialogue and communication are crucial. Nor should you be afraid to try different things; don't get too attached to certain solutions but rather be prepared to reconsider and backtrack if you see that something isn't working."
While Christina loves work, and plenty of it, she also enjoys active leisure pursuits: running, working out in the gym, cycling. And riding.
"Horses. Horses. Horses, are the answer to any questions about my pastimes.
Christina Zander rides several times a week at different stables. Her favourite disciplines are show jumping and the somewhat unusual, in Sweden at least, polo. She talks passionately about the sport, about how the horses and grooms are imported from Argentina via the UK, what a hefty tome the rule book is and that there are matches three days a week. When being tackled on horseback at a gallop, her martial arts training comes in useful. In her opinion, it is the optimal sport.
"It's like playing chess at 180 kilometres an hour."
Thus far, has anything surprised you about your new workplace?
"When somebody apologises for not being in uniform."
Three voices on Christina Zander
Lars Lund, doctoral student at the Stockholm School of Economics (SSE) and former Chief Financial Officer of Smurfit Kappa Sweden and head of Treasury at LKAB, a course-mate of Christina Zander on the Executive Master's Degree (EMBA) in Business Administration at SSE.
"I got to know Christina during the EMBA programme we both attended between 2009 and 2011 and was fairly immediately struck by her knowledgeableness and leadership qualities, both of which were evident in the project we conducted together. What struck me most, however, was her unique determination; she is not daunted by hard work and challenges. The fact that she is pleasant, inclusive and has a great sense of humour hardly makes matters worse."
Helene Rune, Head of Administration at KTH's School of Engineering Sciences, a colleague of Christina when she held the equivalent position at the School of Electrical Engineering and Computer Science.
"Christina is an incredibly committed and inspiring colleague who generally chooses to look on the bright side and is very solution-oriented. She is driven, well-read, incisive and brilliantly articulate and she knows how to handle herself and behave under all circumstances. That said, she is also relaxed and unpretentious with a great sense of humour. As a colleague, I miss her as someone who would step up, back up, discuss and stand her ground on various issues... at least when we shared the same opinion.
The Swedish Defence University has made an outstanding appointment and I know that Christina will shoulder here duties as University Director with distinction."
Ulrika Lövdahl, Senior Manager of Corporate Communications at The Absolut Company. Ulrika is one of Christina's horsey friends and a polo teammate.
"I am grateful and privileged to have a friend like Christina who is loyal, straight-talking and considerate. We share the ups and downs and I trust her wise counsel and approach under all circumstances. Aside from equestrian sports, we also share an interest in fashion. I think that, with her style, she's going to stick out among all those uniforms. At the same time, she is a born competitor, courageous and with an incredible will to win, someone you would definitely want on your team, whether on the polo field or in life in general."
Name: Christina Zander
Family: Husband, the Anders Wall Professor of Entrepreneurship at Uppsala University, and two daughters aged 22 and 24.
Leisure interests: Horses, film, exercise
Unlikely interest: "I'm a big fan of speed."
Page information
Published:

2021-07-19

Last updated:

2021-07-19