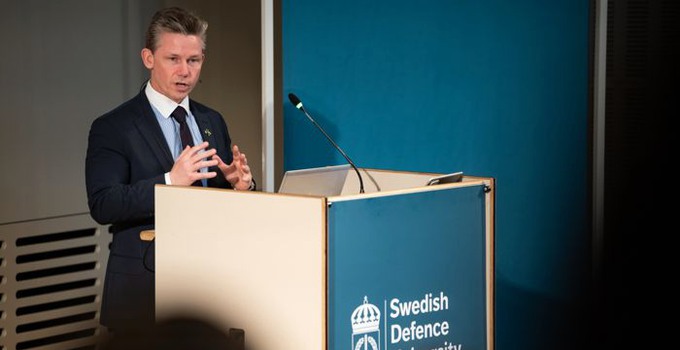 Minister of Defence visits the Swedish Defence University
It was a packed schedule with war games and meetings during Minister of Defence Pål Jonson's visit to the Swedish Defence University on April 26, which was rounded off in a full auditorium, Sverigesalen.
"It's great to be back at the Swedish Defence University," said Pål Jonson, who seemed to be pleased to visit his former university.
He continued to cover his three most important points for Sweden; membership in NATO, support for Ukraine and the development of the Swedish comprehensive defence system (totalförsvar), with support for Ukraine being at the absolute centre of the Swedish Presidency in the EU.
"Sweden and Europe are currently in one of the most serious security policy situations since the end of the Second World War. We have a full-scale war in Europe with a significant risk that Russia will succeed in carrying out a full-scale invasion of a nation on the threshold to NATO territory."
Three challenges: Rearmament, supporting Ukraine and NATO
The defence minister expressed that Sweden has a significant interest in Russia's war against Ukraine. Politically and morally, but not least because Sweden has made great efforts in supporting Ukraine with military means. According to the Minister of Defence, the total value of the aid we have sent to Ukraine amounts to close to SEK 17 billion.
"If I may then say to those who write off the Russian threat, that Russia will continue to be a complicated and dangerous neighbour for the foreseeable future. And that is why we must strengthen our territorial defence, while we also must work towards obtaining full NATO membership."
The Minister of Defence highlighted three challenges facing Sweden:
The rearmament of the defence system, that started already in 2020;
To continue to support Ukraine with full force so that it can win the war and regain its territorial integrity and freedom;
and implement the greatest doctrinal change in Swedish security and defence policy by successfully integrating Sweden into NATO.
"This is not easy. We must balance several while the deteriorating security situation places very high demands on an active defence. The Armed Forces today operate and act in what are called "flexible preparedness ". This means that we move units and resources around, which takes a lot of time and effort from the training mission. The second is, of course, that NATO integration takes time and effort and will affect the need for and recruitment of officers."
"The right thing to do and the smart thing to do"
"I generally describe Ukraine as Europe's shield against an increasingly aggressive Russia, and when we support Ukraine, we naturally risk Sweden's security. But it is about decency, humanity, about international humanitarian law, and about investing in our own security.
The Defence Minister describes the support for Ukraine as entirely unique in nature, given the short time the war has been going on.
"For Sweden, this means that we have used about 20 percent of the defence budget during the year, which is why it has had a significant impact on our growth. It has worked because the Armed Forces has received additional funds to continue growing as planned.
He explains that our long-term military growth will of course be affected by our support for Ukraine. But that it would be an even greater risk not to support Ukraine.
"The support for Ukraine is both the right thing to do and the smart thing to do, in my view."
Priorities for our Presidency of the Council of the European Union
Regarding the Presidency of the EU, the Minister of Defence emphasizes that one of the most important priorities is to support Ukraine. Another issue he highlights is the common framework for the EU's security and defence policy and a common approach to security and defence in space. The third point concerns partnership.
"Partnership is more important than ever when Sweden and Finland want to become full members of NATO. But there is a difference between partnership and membership. Clearly, NATO supports its partners. But it defends its members. That is a reality that we must understand."