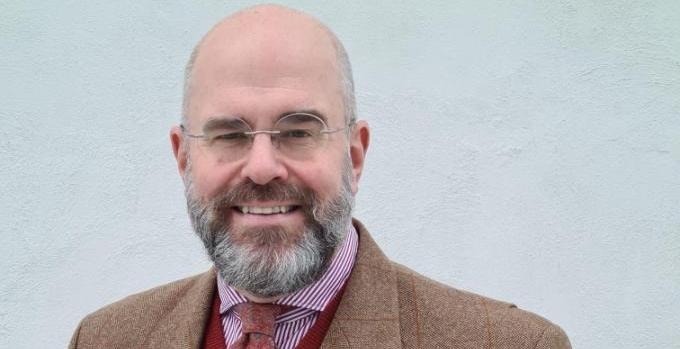 From environmental policy to political philosophy
Ronnie Hjorth, Professor of Political Science at the Department of Political Science and Law, began his research career with a thesis on environmental policy. Now, his interest in political theory dominates his research, although he still has a strong interest in environmental issues.
"I may come back to climate issues. My thesis was on international environmental policy and I studied environmental negotiations related to Baltic Sea matters. But there are many security policy aspects of environmental issues that are very current", says Ronnie Hjorth.
He finished his thesis 28 years ago, when he was 28 years old.
"So that means I have been a doctor for half my life", he says.
His interest in environmental issues led to a postdoc period in Vienna before becoming a lecturer at Linköping University in the mid-1990s.
"My time in Vienna included quite a bit of teaching, and I changed my research focus to political theory. Partly because it was a major interest of mine, but also because it was a rewarding job that gave me easy access to literature that I would have had to search for in the form of documents, through institution visits and other networking, which was the case before material was easily accessible online."
International political theory
His research interests include international political theory and international justice, with one project focusing on the equality of states.
"There is a principle in international law that says that sovereign states are formally equal. This principle has a long history and has looked a bit different, and I have analysed it, starting from the 16th century into the present day, and looked at alternatives to how equality can be understood."
Another project covered the topic of nation-state unrest, i.e. nation-states that break the law but their actions are considered legitimate because they have good intentions and thus escape sanctions.
"An example is civil unrest, where people claim the right to break the law and justify it, a concept that can also be nation-states. There is quite a bit of literature in this area and I have contributed to it."
Since Ronnie Hjorth joined the Swedish Defence University in 2012, he has focused on security policy and balance of power. Until this spring, he was responsible for the Swedish Defence University's research commissioned research for the Ministry of Defence, which goes by the acronym SOFFA in Swedish, Security and Defence Policy Research and Analysis Support.
"In recent years, I have written about the security relations between the United States and Europe, so-called transatlantic security policy."
Pessimism gaining ground
In a recent project, Hjorth returned to political theory in a study of pessimism in international relations.
"In the 1990s, when I started as a researcher, we did not have a pessimistic view of the future, but today pessimism is very much present in international relations, partly due to a deteriorated security policy climate. In this paper, I aim to show how various romantic notions have long shaped the study of international politics - notions that arguably become more important to understand with increasing pessimism."
Hjorth is currently working on an article about the Austrian law philosopher Hans Kelsen following an invitation from a colleague in Vienna, teaching, and union work as chairman of the Saco-S association at the Swedish Defence University.
"My research is about understanding. I want to reason about problems, sort things out and make sense of things."
Josefin Svensson
In brief
Title: Profession of Political Science.
Currently working on: An article about the relations between the US and Europe, together with Malena Britz, lecturer and Pro-Vice-Chancellor.
In my spare time: The Concert Hall of the Opera, or spending time outside in the summer months.
Last book I read: Gamla Mästare (Extinction) by Thomas Bernhard.
Secret talent: I play the drums, everything from jazz o classical music.
I happily discuss: Music, philosophy, and anything that does not have a given answer.
My driving force as a researcher: Trying to understand things.