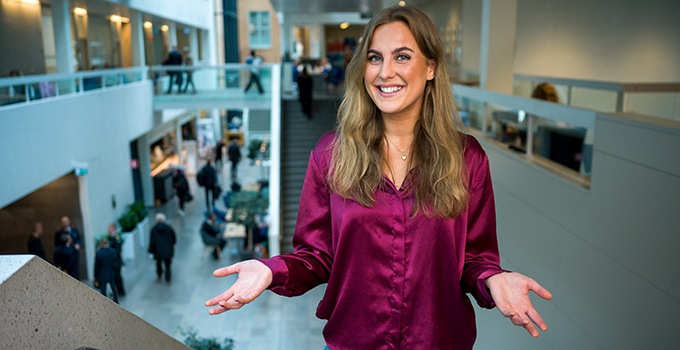 We'll take care of you when you start at the Swedish Defence University
It starts as soon as you step through the doors. During your first two weeks there is a string of fun activities and team building. Within days you'll be part of the "family", making new friends and feeling right at home. This is what the Student Union is all about.
Lina Bonander has been on the Student Union's Student Social Committee for several years. The committee organises onboarding activities for new students. She remembers what it first felt like. Lina is from Torsby in Värmland and describes the big step of moving and starting her studies in political science at the Swedish Defence University.
Stockholm felt big and difficult to grasp. But the Swedish Defence University is the best place to study, because it's small and friendly.
She describes the tingling feeling of taking a step in a clear direction in life for the first time. And all the questions buzzing in her head... Had she made the right choice? Would she feel alone?
It only took a couple of seconds, then I felt a sense of home. It was amazing. It was such a warm welcome, but I also felt at home with the others at the school. It was like coming to a gathering place for people like me. You had something to talk about straight away.
There are many good reasons to invest in social activities. The Student Union knows that studies and social life are connected.
To succeed in your studies, it's important to enjoy yourself and make friends. You should feel safe and know that you are part of a community. So we're really passionate about creating this feeling and welcoming all newcomers.
Lina explains: This is what happens in your first few weeks
What happens when I walk through the doors on my first day?
That's when we kick off two weeks of fun activities. On day one, your class will be divided into groups and you'll be assigned mentor buddies. There will be introduction lectures and a tour of the school and the local surroundings, so you'll know about good cafes and where to get a beer after school.
During the onboarding weeks, we organise picnics in a park, quizzes and team building activities, pub nights and a tournament in the Swedish version of baseball - 'brännboll'. We usually end the week with a "sit-down-dinner", a festive and traditional dinner with singing, speeches and games.
Will there be an introduction to the studies?
Yes. Because many people are nervous about studying, we have "study cabins". There you can ask all about what it's like to study at the Swedish Defence University. How is it different from high school? What's it like to take an exam? The study counsellor is there to answer your questions. Then you can sit down and start studying straight away with your new classmates, since school starts a bit gently at with the entrance exam.
Does the Swedish Defence University have the traditional overalls?
No. You don't have to prepare anything, just come as you are.
Is there any pressure to drink alcohol?
No, our onboarding is far from the heavy drinking and hierarchies of the movies. It's about being really warmly welcomed and feeling included, making friends and new connections. Everyone is welcome to take part and I promise that no one will be 'humiliated'. Then, of course, some of us may have a beer.
What would you like to say to anyone who is about to choose their university studies?
I want more people to dare make the move to Stockholm and study at the Swedish Defence University. I'm so glad I had the courage to do that! It's such an investment in yourself in every way if you dare to take the plunge. Not everybody shows it, but everyone is nervous. But you have to bite the bullet and give it your best effort.
Lina answers some FAQ's
What happens if I fail an exam?
Taking your first exam is always a bit stressful, but you really don't have to worry about it. If you don't pass the exam on the first try, there will always be a retake opportunity. You will also have received feedback from your teacher and know what you need to improve for next time.
Is there a student pub?
Yes, we have a student pub at the school called "Mässen" [The Mess]. They are open on Wednesdays and Thursdays and it's run by officers at the Higher Officer Programme. Both students and staff come here - and it's clearly the nicest pub in all of Stockholm.
Is it possible to work out at the school?
Yes, we have a gym and a gymnasium at the school. You can take classes - everything from body pump to yoga - and in the gymnasium, we play floorball together once a week.
Is there anywhere I can get support if I feel unwell during my studies?
Should you become stressed, experience performance anxiety or feel unwell in any other way during your studies, you can always contact the Student Health Service. There you can take part in group activities or book private sessions with professionals who will help you.
Do you have to have any previous knowledge of the defence sector to study at the Swedish Defence University?
No. It is a common assumption that you need to have previous knowledge of defence to attend the Swedish Defence University, but it is not necessary at all. Studying in a civilian-military environment will quickly feed your interest and curiosity.
What is the main difference between secondary school and university studies?
You will need to take more personal responsibility for your studies. Lectures are not compulsory as in upper secondary school; instead you plan your own studies to a greater extent. Another difference is that we study one course at a time. This means that you get the chance to 'dive in' and focus fully on the current course.