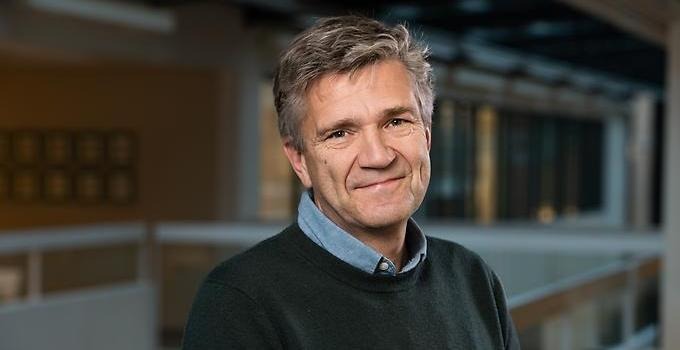 From submarine commander to professor
Roar Espevik has a background as a submarine officer and extensive experience in leadership development under stressful conditions. His drive to try something new led him to the Swedish Defence University, where he is working on systematising the research on leadership training in the officer programme.
Roar Espevik was appointed Professor of Leadership and Management at the Swedish Defence University in October 2021. He comes from a position as Dean at the Naval War College, University of Bergen, where he was also Head of Research and Head Lecturer in Leadership. It was while working as a submarine commander in the Norwegian Navy that awoke his interest in leadership development and pedagogy.
"When you work as closely together as you do on a submarine, there are many questions about what works and what does not when you teach people to handle extreme situations. Some people also work better under pressure than others. I was curious why this was so, and sought out research."
Leadership in groups
He started his PhD at the age of 45 and defended his thesis on teamwork in military teams in 2011. The common thread in his work is the topic of how to make teams work together under stressful conditions.
"I am interested in team aspects of leadership, how to make people take responsibility and how communication works in different situations. I also look at causal relationships and the types of processes that strengthen teamwork and how people adapt to new situations and conditions."
His years as a submarine officer and his work with cadet training in Norway have shaped him and provided him with experience of what is important to emphasise when future officers are learning how to make decisions.
"I have worked quite extensively with problem-based learning where you use different scenarios and exercises to practice specific elements and skills. It is important to practise decision-making skills and to work together in different circumstances."
Research based on experiments
In his research, Espevik has tried different types of experiments to test and assess exercises and situations. He believes that it is a great advantage to work with cadet training while collecting empirical material for further research.
"Those opportunities are something we should make use of. An exercise that is focused on leadership development can also be researched and adapted to fit the pedagogy. In the military, we rely on actual experience, but do we really know that the exercises have the desired effect? We need better research and evaluation procedures so that we make sure that we do the right things", he says.
This is an area that Espevik hopes to continue to develop at the Swedish Defence University.
"For example, cadets may be asked to complete a survey before and after a major exercise so that the results can be evaluated. This allows cadets to reflect on their training and also participate in their own research."
"I am also working on the PhD programme in Leadership and Management and a Nordic graduate school that will hopefully start in the autumn of 2023."
Conducting research under stressful conditions
One of the challenges of researching leadership in stressful conditions is getting close to real-life situations.
"I have recently published two scientific articles looking at the communication between the emergency dispatch centre and ambulances, where one of the challenges was to anonymise the data. It is also time-consuming to have access to the real world and understand the processes and mechanisms at play, but it is incredibly interesting when you see something in the real world that previously was conducted in experiments."
Josefin Svensson
In brief
Title: Professor of Leadership and Command and Control
At the Swedish Defence University since: October, 2021
Current projects: Four scientific articles together with researchers from other universities:
On my free time: I read a lot of fiction, I like soccer, movies, theatre and music.
Last book I read: Jente 1983, by Linn Ullman.
My driving forces as a researcher: I want to help people in extreme situations. I love to see others learn. Being there when the light bulb goes on gives me a lot of energy and is my personal driving force.