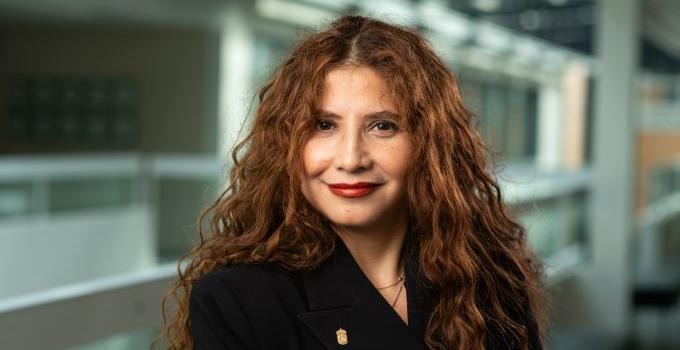 She wants to contribute to more secure oceans
Associate Senior Lecturer Adriana Ávila-Zúñiga Nordfjeld's research focuses on port and maritime safety and security. With extensive experience in the field, one of her driving forces is to contribute to policy changes that lead to more secure oceans.
When Adriana Ávila-Zúñiga Nordfjeld was 14 years old, a Norwegian ship ran aground off the coast of south Mexico near the port of Lazaro Cardenas and caused a marine ecological disaster in the area. The event stirred her interest in maritime safety and security, which has become the biggest drive throughout her career.
"I became very involved because I saw how the environment was destroyed in the area. I really wanted to join the navy, but since that opportunity was not open to women at the time, I chose to start studying international trade and customs, with the major subject of maritime logistics at the university."
She continued with a master's degree in maritime law at the University of Oslo, and a master in maritime management at Chalmers in Gothenburg.
Award-winning article on maritime security in Mexico
"I then started working in the marine transport sector in Norway at the same time as I completed my doctoral studies at WMU, The World Maritime University, in Malmö."
WMU specializes in research and postgraduate studies in various marine disciplines. It was founded in 1983 by the International Maritime Organization (IMO), which is an organization within the UN.
"It was a fantastic opportunity to attend the doctoral program there. I gained access to a large network of international experts and thus different perspectives and experiences."
During her doctoral studies, she presented an article at a conference in Nantes, France, in 2016. The article – Enhancing Maritime Security in Mexico: Privatization, Militarization, or a combination of both? – won the prize for best article at the conference. It was then included in an anthology and was widely circulated. Recently, it was quoted in the United States' new National Drug Control Strategy, developed by President Biden's Executive Office.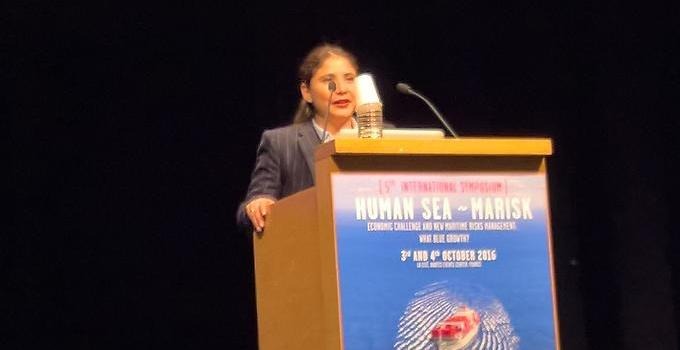 The article discusses various solutions to improve maritime security and safety in Mexican ports, where, among other things, the need for stable procedures and routines is raised.
"We show, among other things, that they had different procedures for handling the same types of incidents, and sometimes they were not even aware that they had procedures in place. After 12 years of implementation Mexico still didn't meet the requirements, and there is a great need for reforms."
In her research she draws attention to, among other things, maritime security related to drug trafficking, which largely takes place at sea and through ports in Latin America.
"It Is clear that the port security also must be improved in order to reduce drug trafficking."
Narrow research field with great potential
Maritime security is a fairly narrow field of research, but it should get far more attention since around 80 percent of the volume of international trade in goods is carried out by sea, she says.
"Unlike maritime safety, which is about reducing the risk of accidents, maritime security focuses on how to reduce the risk of harmful acts, such as terrorist attacks, pirate attacks, drug trafficking or other illegal actions at sea, including transnational organized crime.
Contribute to policy change
It is clear that she is passionate about maritime security and safety, and one of her driving forces is to contribute to policy change and increased safety and security at sea.
"When I was younger and still living in Mexico, I went to the library to look for information about how we could reduce the damages caused by marine pollution and ships. There was, and still is, a great lack of knowledge in the field."
She tells of how at that time, the government authority didn't know that they had the possibility to file a legal claim against the shipping company to receive compensation for the environmental damages caused by the accident.
"But instead, the wreck is treated as a tourist attraction, despite the fact that it still poses a risk to navigation and can cause environmental damage."
Achieving change takes time, but she hopes that her research can contribute to development.
"The Mexican Congress, for example, has recently used my research to develop reforms, and I hope that this will lead to improvements."
She is currently working on a research application for a project on maritime security in the Baltic countries and is completing on no less than three scientific articles that are expected to be published later this year.
"I applied to the Swedish defence University to get the opportunity to work with exactly what I'm interested in, and when you do that, it does not feel like work!"
Josefin Svensson
In brief
At the Swedish Defence University since: March 2021.
Current projects: I have three scientific articles under review. I am also engaged in WISTA (Women's International Shipping and Trading Association) as president for WISTA Mexico and work with Apec (Asia-Pacific Economic Cooperation) where I have, for example, been donating teaching hours for a free course for women in the maritime sector.
When I have time off: I love my work so I don't take that much time off. But I like reading and visiting museums.
Favorite books: 100 years of loneliness by Gabriel Garcia Marques and Violeta by Isabel Allende.
Hidden talent: I am a good cook.
I like to discuss: I love to discuss the application of technology and innovation in maritime security and military operations at sea.
My driving force as a researcher: I would love to be able to use my knowledge at the International Maritime Organisation (IMO) and to contribute to develop international policies and regulations to create safer and more secure oceans worldwide.
Page information
Published:

2022-05-19

Last updated:

2023-05-22