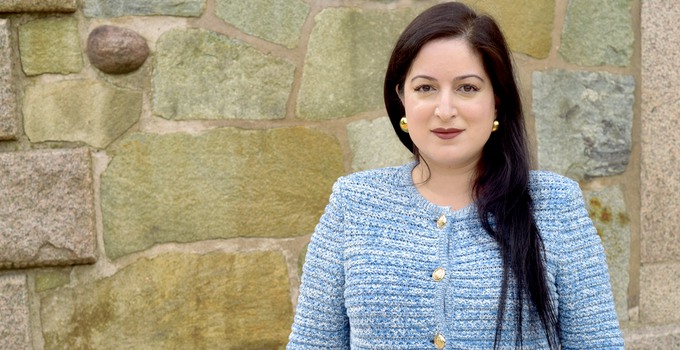 She wants to understand how totalitarianism arises
Evin Ismail researches the development of Islamic ideology, and she is currently writing a popular science book on the modern history of Islam.
"I am also interested in the information influence and I look at the narratives that Iran and China are promoting in English and in the Middle East."
This spring, Evin Ismail started as a senior lecturer in political science at the Swedish Defence University. Her previous position was at Uppsala University, where she received her doctorate in the spring of 2022. Her thesis was on the anti-semitism of Islamist ideology, titled The Antisemitic Origins of Islamist Violence: A Study of the Muslim Brotherhood and the Islamic State. The thesis analyzes the ideologies of the Muslim Brotherhood and the Islamic State with a focus on how they have evolved from the 1930s to 2018.
Her interest in the subject and a career in research comes from her family history. Her parents left Iraq in 1984 and came to Sweden because of Saddam Hussein's dictatorship. Her family belongs to Iraq's old upper class, and they had a good life in Baghdad, but society became increasingly controlled by fear and a lack of freedom of expression.
"Ever since my childhood, I have heard many stories about totalitarianism, war, and coexistence. These stories affected me, and I want to understand how totalitarianism can arise. There is a long academic tradition in my family, and it was only natural that I pursued a Ph.D."
Her research falls in the broad field of political sociology with theoretical elements of social psychology.
"When I think about it, it is quite logical that I am doing what I am doing today. The thesis was a first step in understanding how Iraq became a totalitarian society, which I believe started with the introduction of the anti-Semitic ideology in the 1940s."
Iraqi Jews have over 2,000 years of history in the country, which ended with the introduction of anti-Semitic ideology. Since then, several groups have fallen victim to political violence.
"I study how anti-Semitic beliefs were transferred to other groups in society and led to violence against them, too."
Comfortable with her research
Ismail's research on the Muslim Brotherhood and the Islamic State has received attention and, in some cases, she has been asked about her political views.
"It has been a challenge to disregard the political fervour of the subject and the interests of different stakeholders to focus only on the academic aspect of the matter."
It is important to believe in your knowledge and your role as a researcher, she says.
"Seeing your role as serving science and upholding academic integrity makes it easier to separate the research from other interests and stakeholders."
Comments on the Quran burnings and threats of terror
In connection with the Quran burnings in the spring and summer of this year and the Security Police raising the terror threat level on August 17, Evin Ismail has appeared in the media to comment on the events based on her expertise.
"I believe the third task - sharing knowledge - is extremely important. I wish it would become a more integral and natural part of the university and our role as researchers."
She points out that participation in the media and other contexts outside academia serves a greater value and can open new opportunities.
"For example, by appearing on SVT (Swedish state television) I can reach many hundreds of thousands of people, and for me, this has led to requests to give lectures and participate in various expert groups. The positive feedback I received outweigh any negative comments."
Information influence from China and Iran
Evin Ismail's current research focuses on different types of information influence. She studies the narratives that China and Iran are promoting in English and in the Middle East, and uses social psychological theory to understand information influence and the nuances and functions of propaganda.
"I am currently writing three articles; one on Iranian state media's narrative of the Quran burnings in Sweden based on social identity theory and one on the US-China trade war applying the sociological theory of the self-fulfilling prophecy. The third article is about Iraqi Jews living in Israel and initiatives to bridge the gap between the Jews and the Iraqis."
The modern history of Islam
In addition to her teaching and research role, Ismail is also working on a popular science book on the modern history of Islam and modern interpretations of Islam.
"I study the interpretations that existed when there was still tolerance in Iraq, which means that I go back in time, before the 1930s, while also introducing modern interpretations of Islam that exist today or were developed during the period of totalitarian ideology."
The book addresses, for example, how feminist and LGBTQ perspectives can be integrated into the understanding of Islam, and her hope is that the book will be used in primary schools and as course literature at the university level.
"I have wanted to write this book for a very long time. I have just started the work and look forward to bringing new perspectives and nuances to the research field."
Josefin Svensson
In short
At the Swedish Defence University since: March 2023
Currently working on: I have received a grant to write a popular science book on modern interpretations of Islam.
On my free time: Writing books and going to restaurants with friends.
The last book I read: The Power of the Sacred - An Alternative to the Narrative of Disenchantment, by Hans Joas.
Hidden talent: Networking and making friends with people from different cultures and backgrounds.
Enjoy discussing: The Egyptian author Taha Hussein, gardening, and sociology.
My drive as a researcher: Loyalty to science.
Page information
Published:

2023-09-22

Last updated:

2023-10-05