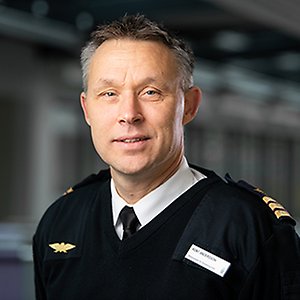 Kent Andersson
Lieutenant Colonel
Senior Lecturer
Department of Systems Science for Defence and Security
Systems Science for Defence and Security Division
Systems Science for Defence and Security
Engelsk beskrivning om dig själv

Kent Andersson is Lieutenant Colonel in the Swedish Armed Forces and senior lecturer in Defence and Security Systems Development.

His research interest is in systems for defence and security consisting of interacting technical and social components, particularly in the development of military capabilities and in methods for assessing the utility of technologies involved. He is currently also the co-supervisor of Karl Kindström-Andersson in a research project called COMTE - Concept of Operation and tactical Modelling for Tradespace Exploration.

Background
Kent Andersson holds a Ph.D. in military sciences from the National Defence University of Finland, a licentiate degree in material optics and a M.Sc. in engineering physics from Uppsala University. He has ten years of experience as a lecturer in military-technology and more than twenty years of experience as an officer in the Swedish armed forces, mainly from working with development of command and control systems supporting tactical and joint command levels.