Håkan Edström
Lieutenant Colonel
Associate Professor, Senior Lecturer
Political Science, War Studies
Organisation
Department of Political Science and Law
Political Science Division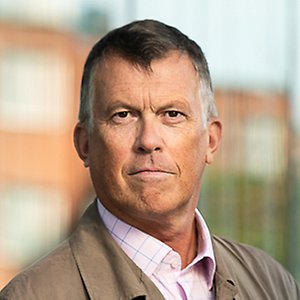 Engelsk beskrivning om dig själv

Håkan Edström is associate professor and senior lecturer in Political Science, senior lecturer in War Studies, and active duty lieutenant colonel in the Swedish Army.

He received his PhD in Political Science from Umeå University in September 2003. In the thesis, he analysed the role of military strategy in the political guidance of the Armed Forces in Finland, Norway and Sweden respectively. During his PhD-studies, he taught strategy at the Swedish Defence University (SEDU).

After his dissertation, Edström served as staff officer, division for strategic analysis, at the Armed Forces Headquarters until July 2007. He then deployed to Norway, serving as teacher in strategy at the Norwegian Defence University until June 2011. Before returning to SEDU in January 2012, he conducted research on international peace support operations at Folke Bernadotte Academy during the second half of 2011.

At SEDU, Edström's teaching in War Studies has primarily been on military strategy and defence planning and, in Political Science, on international relations and the security politics of the Nordic countries. Edström has supervised PhD-students to successful defence of their PhD-thesis at the University of Belgrade (Political Science), Maastricht University (Governance) and Lund University (Political Science). He is currently supervising PhD-students in War Science at SEDU, in Sociology at Lund University, and in Political Science at the European University Institute (EUI), Florence, Italy.

Edström's recent research has focused on military strategy of different states. Hence, he and his colleagues have established a specific field of research; comparative strategy. During the last three years, i.e. 2020 – 2022, he has released several articles as well as three monographs (all co-authored with Jacob Westberg and published by Routledge) within this field:
• Military Strategies of the New European Allies: A Comparative Study. (ISBN 9781032286938. Published 30 December 2022).
• Military Strategy of Great Powers: Managing Power Asymmetries and Structural Changes in the 21st Century. (ISBN 9780367743192. Published 21 September 2021). https://www.fhs.se/en/swedish-defence-university/news/2021-09-21-focus-on-military-strategies-of-great-powers.html
• Military Strategy of Middle Powers: Competing for Security, Influence and Status in the 21st Century. (ISBN 9780367500870. Published 16 October 2020).

During the upcoming three years, i.e. 2023–2025, he will be finalizing three different research projects, each intended to lead to the publishing of a monograph and, potentially, some additional articles:
• Strategy Among Nations (with Jacob Westberg).
• NATO´s New Front (with Dennis Gyllensporre).
• Military Diplomacy (with Dennis Gyllensporre).
Håkan Edström
Försvarshögskolan
Universitetslektor