Cyber Operations in Antagonistic Environments
In this course the cyber domain is problematised in order for you to be able to describe and discuss threats, risks and events.
The course starts with an introduction to computers and networks in order to provide a common frame of reference for the remainder of the course. The second part of the course deals with the Internet, automated systems and the actors that operate in the cyber environment. The distinctive features of the cyber domain compared to traditional military methods are highlighted.
The course consists of two modules. Introduction to Computers and Networks (1.5 credits) and Cyber Operations (6 credits).
Module 1, Introduction to Computers and Networks
Basic concepts and operating principles for computers and networks.
Module 2, Cyber Operations
Function and Governance of the Internet.
Threats, risks and opportunities regarding automated systems.
The main actors and their general approach to cyber operations.
After completing the course, you will be able to:
explain basic concepts and methods for computers and networks as well as operating principles for the Internet;
describe the processes and organizations that govern the Internet;
describe and discuss automated technical systems from a vulnerability and user perspective;
describe and discuss different actors' actions in the cyber domain.
Teaching takes the form of lectures, self-study, laboratory work and seminars.
Starting Term
Autumn Term 2023
Study Period
2023 week 40 - 44
Teaching Method
Laboratory work
Requirements
Passed courses of at least 180 credits that include - at least 7,5 credits in the field of Defence, Crisis management and Security, - written thesis project including of at least 15 credits, and knowledge corresponding to English 6 (English B).
Language of Instruction
The teaching is conducted in English.
Contact

If you have questions about the course, please contact the Study Counsellors.
You can reach us by e-mail: studievagledning@fhs.se
Discover the Swedish Defence University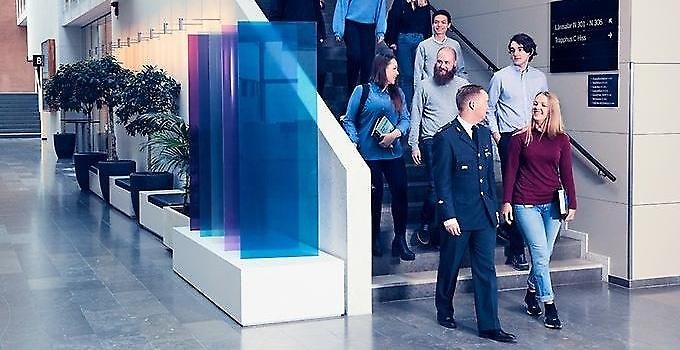 Studies at Swedish Defence University - a both civil and military university - offers a completely different experience compared to most other universities.