War, Law and Emerging Technology
Cyber warfare, autonomous weapons systems and military use of outer space. Emerging, advanced technologies have made their way into crises and armed conflicts. But what are the legal issues surrounding these advances? You'll learn more about that in this course.
What does the course lead to?
Upon completing the course, you will:
possess a basic understanding of the functions and operation of the studied technology

be able to analyse the impact of the studied technology on the application of the law

be able to identify and critically assess the main areas of the debate regarding the legal issues surrounding the studied technology

be able to differentiate between ethical and legal arguments and apply and analyse the legal arguments in relation to the use of technology in peacetime and conflicts
Course structure
The course begins with an introduction to the complex relationship that has developed between war, law and technology. Each week is devoted to a certain technological development and an assessment of the legal consequences of the use of technology in crises and wars.
The technology being evaluated includes:
cyber warfare;

unmanned and autonomous weapons systems;

human enhancement technology;

military use of outer space;

large quantities of data, surveillance and algorithmic warfare
The course is conducted in English and primarily comprises independent literature study, supported by lectures and seminars.
Starting Term
Spring Term 2024
Study Period
2024 week 19 - 23
Requirements
Bachelor's degree worth 180 credits, of which at least 60 credits are in social sciences, humanities or law, or relevant professional experience.
Language of Instruction
The teaching is conducted in English.
Contact

If you have questions about the course, please contact the Study Counsellors.
You can reach us by e-mail: studievagledning@fhs.se
Discover the Swedish Defence University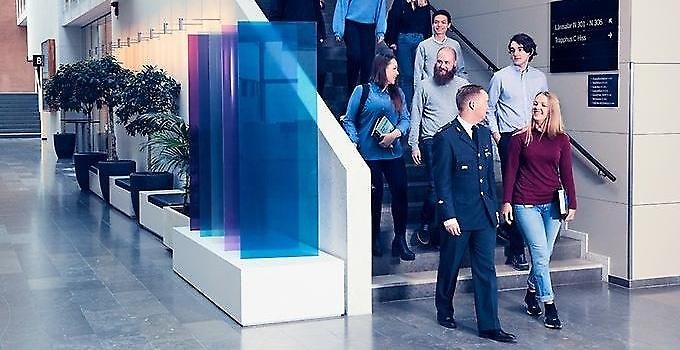 Studies at Swedish Defence University - a both civil and military university - offers a completely different experience compared to most other universities.