Ph.D Defence: Marcus Börjesson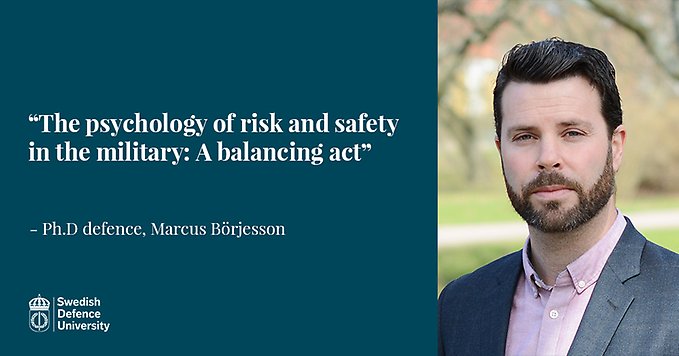 On December 11, Marcus Börjesson defends his PhD Thesis "The psychology of risk and safety in the military: A balancing act".
The thesis is addressing how military personnel relate to risk and security issues. The results point at circumstances that can give rise to negative risk behaviours, but also strategies that can create a functional risk-taking behaviour.
Marcus Börjesson is a lecturer in leadership at the Department of Security, Strategy and Leadership at the Swedish Defence University. He is a doctoral student at Karlstads University and is defending his PhD thesis at the Department of Social and Psychological Studies, Karlstad University.
Read more about the PhD defence at Karlstad University's web page.
More information about the event
Location:
Zoom and Anderssalen, Karlstad University
Contact:
Marcus Börjesson , 08-55 34 27 34, marcus.borjesson@fhs.se