PhD Defence: David Bergman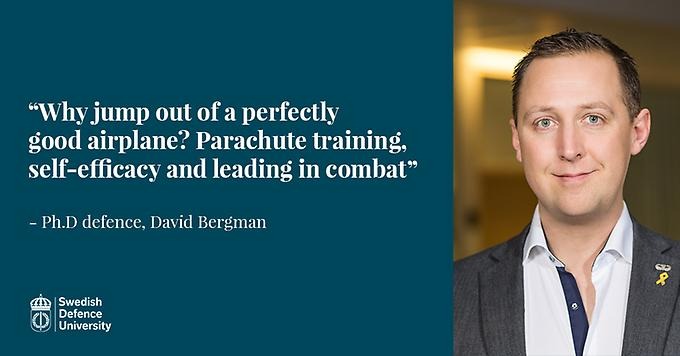 On March 26, David Bergman defends his PhD thesis "Why jump out of a perfectly good airplane? Parachute training, self-efficacy and leading in combat".
The aim of the thesis is to investigate whether and how military parachute training can function as a method for leadership development.
David Bergman investigates, among other things, whether military parachute training is associated with an increase in leadership self-efficacy and whether the inability to complete training is associated with any direct and sustained effects.
Overall, the thesis indicates that parachute training can help to prepare future military leaders to lead in combat. The results imply that the effects of parachute training are indirect rather than directly associated to leadership and that ability to remain composure in extreme situations in turn enables individual behaviours, including leadership. The thesis also contributes insight into the process of how personal beliefs can be transferred or generalized across different areas or domains in a person's life. The results are also relevant for other professions that routinely work in extreme contexts.
David Bergman is a teacher in leadership at the Department of Security, Strategy and Leadership at the Swedish Defence University. He is a doctoral student at Stockholm University and is defending his PhD thesis at the Department of Psychology, Stockholm University.
Read more about the PhD defence on Stockholm University's website.
Read and download the PhD thesis.
More information about the event
Contact:
David Bergman , 08-553 42 887, david.bergman@fhs.se