Open lecture with Carrie Reiling: Knowing Security and Sustaining Peace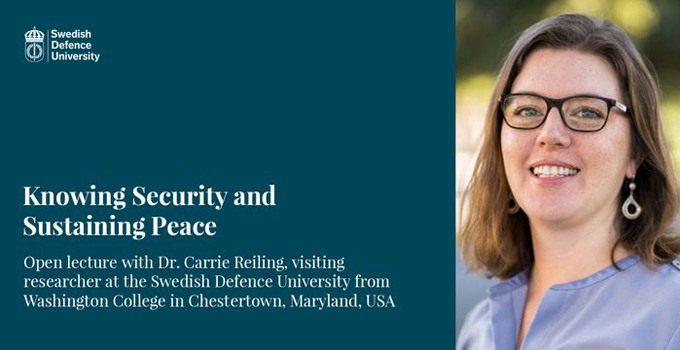 Welcome to an open lecture with Dr. Carrie Reiling, visiting researcher at the Swedish Defence University from Washington College in Chestertown, Maryland, USA.
What are the components of security for women? How do we know when we've achieved peace? Despite high-level discussions and detailed international policies culminating in the Women, Peace, and Security agenda, achieving the aims typically falls short of the ideal.
Dominant discourses often center security for women, a shift from older discourses that focused on development. Peacebuilding, a newer global discourse, marries both security and development, but it also maintains power hierarchies between "global" and "local" actors. Simultaneously, national governments put forth their own stories that align women's needs with national interests.
To know what security is and to produce a sustained peace, then, demands not just priorities from well-resourced, "legitimate" actors but also insights from non-elite actors, the very women that the policies are intended for.
With nearly two years of participant observation research from Côte d'Ivoire, Mali, and Guinea, Carrie Reiling illustrates how local women working on the Women, Peace, and Security agenda conceptualize security as a positive peace that takes into account not only the absence of war but also the material and political conditions that affect women's lives and communities.
Bio
Dr. Carrie Reiling is an assistant professor of political science and international studies at Washington College in Chestertown, Maryland, USA. She is currently a visiting research fellow with the gender, peace, and security team at FHS. Her research focuses on the tensions between peacebuilding, security, and development in global governance initiatives to address women's needs in the Global South. Specifically, she analyzes the UN Security Council resolutions on Women, Peace, and Security as implemented in francophone West Africa. I also write about feminist and interpretive research methodologies. She is also the academic network coordinator for the Women's International League for Peace and Freedom.
More information about the event
Location:
N206B, Försvarshögskolan, Stockholm and Zoom