Book launch: Waves of upheaval in Myanmar: Gendered transformations and political transitions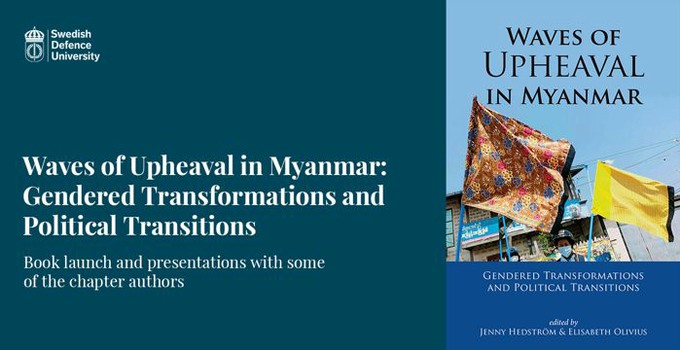 Welcome to the launch event of the book Waves of Upheaval in Myanmar: Gendered Transformations and Political Transitions where some of the chapter authors will present parts of the book.
About the book
Although the February 2021 military coup brought an end to a decade of far-reaching political, economic and cultural change in Myanmar, the attempt to restore a masculinized, military dictatorship has met widespread popular resistance. Here, women have held a pivotal role in opposition to military rule.
This volume is the first comprehensive account of the multifaceted processes of gendered transformation that took place in Myanmar between 2011 and 2021. It offers a deeper understanding of the current political situation and of the ways in which the country's political landscape might continue to be reshaped.
About the editors

Jenny Hedström
Jenny Hedström is an associate professor in war studies at the Swedish Defence University. Her research concerns the relationship between gender and war, with a focus on rebel warfare in Myanmar
Read more about Jenny Hedström and her research.
Elisabeth Olivius
Elisabeth Olivius is an associate professor in political science at Umeå University whose research explores how gendered relations of power are produced and reshaped in conflict, displacement and peacebuilding.
The event will be followed by a reception.
Live webinar
You can also follow the event live on Zoom.
To the broadcast.
Register here to participate on site in Sverigesalen:
You cannot register any longer. Registration closed on 11 January at 12.00.
More information about the event
Location:
Sverigesalen. Försvarshögskolan Stockholm och Zoom