Public seminar: Nordic defence cooperation in a new era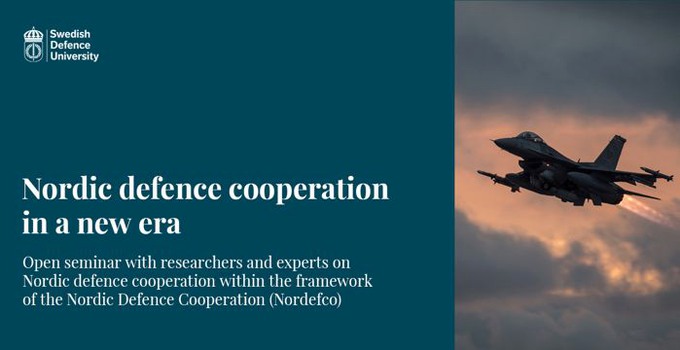 Welcome to a seminar with researchers and experts on Nordic defence cooperation within the framework of the Nordic Defence Cooperation (Nordefco).
Program
10.00-10.50: Lessons from Russia's war on Ukraine for the development of future Nordic defence cooperation
How does Russia's war on Ukraine and Finnish and Swedish NATO membership impact the prerequisites for Nordic defence cooperation (NORDEFCO)?
How should future Nordic defence cooperation relate to NATO, EU and other relevant bi- and multilateral arrangements for defence cooperation?
Looking ahead, what lessons can be learned from previous Nordic defence cooperation?
Short introductory remarks by invited researchers from Denmark, Finland, Norway and Sweden:
Kristian Søby Kristensen, Director/Senior Researcher, University of Copenhagen
Iro Särkkä, Postdoctoral Fellow, Finnish Institute of International Affairs
Per Erik Solli, Col (ret) and Senior Defence Analyst, Norwegian Institute of International Affairs
Jacob Westberg, Associate Professor, Swedish Defence University
Magnus Christiansson, Senior Lecturer, Swedish Defence University.  
11.00-12.00: Practitioner's perspectives and questions from the audience.
Moderator: Stefan Ring, former teacher of strategy at the Swedish Defence University member of the Royal Swedish Academy of War Sciences.
Panelists: Invited researchers and rearchers from the Swedish Defence University, Defence Policy Directors and the Chief of Directorate of Strategic Plans and Policy at the Swedish Armed Forces.
Please note that the number of seats in Sverigesalen is limited – first come, first served!
Nordic defence cooperation
The Nordic Defence Cooperation (NORDEFCO) consists of Denmark, Finland, Iceland, Norway and Sweden. The overall purpose of NORDEFCO is to strengthen the participants' national defence, explore common synergies and facilitate efficient common solutions.
More information about the event
Location:
Sverigesalen, Försvarshögskolan