Open lecture: Artistic approaches to environmental crisis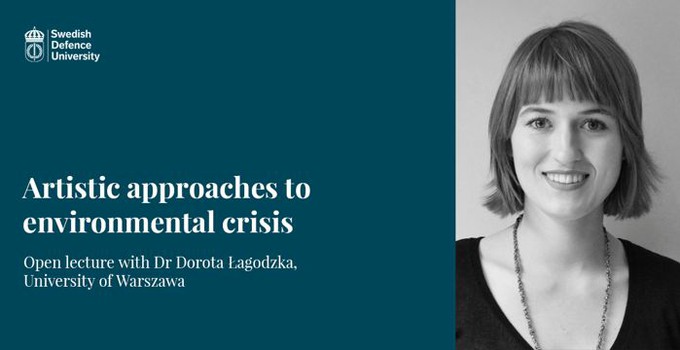 In collaboration with our network on climate, crisis and security, Dr Dorota Łagodzka from the University of Warsaw will be a guest lecturer with us on 23 May.
Dr Dorota Łagodzka holds a Ph.D. in cultural studies, and MA in art history, is an assistant professor at the Faculty of "Artes Liberales", University of Warsaw.
She is the co-author and coordinator of the Anthropozoology studies program. Her doctoral dissertation was focused on the animal as an art participant and material and relations between artists and animals from the mid-20th century to the present day.
She is a recipient of two research grants about animals in art and culture awarded by the Polish National Science Centre (NCN). Dorota is an author of numerous academic publications, exhibition catalogue texts, exhibition reviews and has served as a curator for art exhibitions.
Please note that the lecture takes plan in lecture roomTre Kronor. If you are an external visitor and do not have access card you need to register in the reception. Please make sure you are here 10 minutes before the lecture. You can also pre-register by emailing camilla.magnusson@fhs.se
More information about the event
Location:
Lecture room Tre Kronor