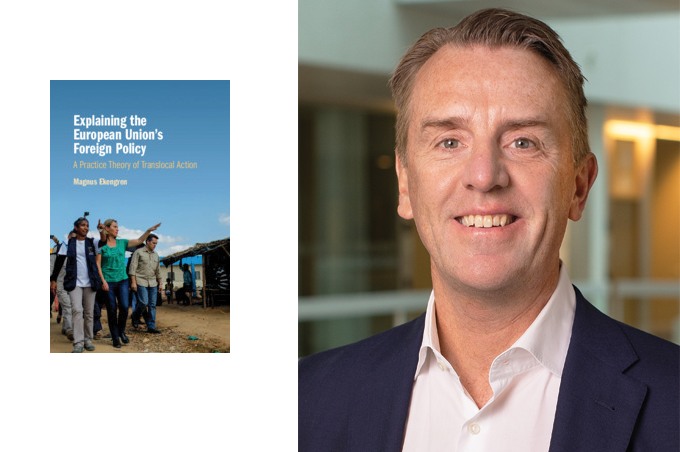 Raab Prize for Cambridge book on EU foreign policy
Professor Magnus Ekengren is awarded the 2019 Hugo Raab Prize for his book Explaining the European Union's Foreign Policy – A Practice Theory of Translocal Action, published by Cambridge University Press.
The Swedish Defence University's Hugo Raab Prize 2019 goes to professor Magnus Ekengren with the following statement:
"Ekengren's monograph cuts meritfully through the scientific debate, is characterized by excellent craftsmanship and has also been published by one of the foremost university publishers, Cambridge University Press".
- The award as well as the initial publishing decision by Cambridge University Press is a recognition of a theoretical perspective based on the actions of diplomats, military officers, crisis managers and aid workers in practice - an approach that reflects the Swedish Defence College's successful unification of science and proven experience, says Magnus Ekengren.
It is the university's Board for Research and Education Committee that nominees award winners, after which these are assessed by external experts and in the next step the FoUN proposes final prize winners. The final decision on the winner is taken by the head of research at the Swedish Defence University, Pro-Vice-Chancellor Malena Britz.
- This year's three nominees for the Hugo Raab Prize show the breadth of our research, from the study of the ontology of war, to questions about the drivers of EU foreign policy, to the question of how the traditional characteristics of the military organization are challenged by contemporary social demands. Magnus Ekengren's book Explaining the European Union's Foreign Policy - A Practice Theory of Translocal Action is a very good example of the exciting research going on at the Swedish Defence University, and we are of course very happy and very proud to have researchers publishing books at international university publishers, says Malena Britz.
About the Hugo Raab Prize
The Hugo Raab Prize was established to promote scientific quality at the Swedish Defence University and is awarded to researchers, teachers or students who have performed one or several scientific works of outstanding quality over the past three years.
Hugo Raab is considered to have laid the foundation for academic military training in Sweden. He was a Swedish free lord and senior military officer who lived in 1831-1881. During his military career, Raab made many efforts to modernize the army organization and officer training. In November 1876, he submitted his "Submissive Proposal for the Establishment of a War College in Stockholm" where he argued for an officer's education on an academic basis.