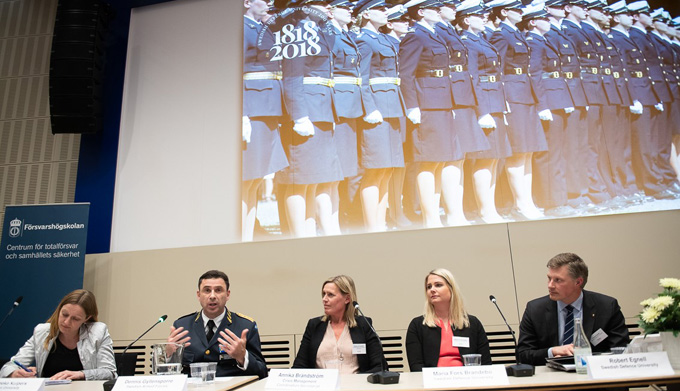 How can you as a leader be better at dealing with tomorrow's crises?
Here are some words of wisdom from the expert panel on how to prepare for leadership challenges that were presented at SEDU's jubilee seminar.
1. Despite a changing world, public expectations remain the same
Despite the increasingly changing environment, people have not changed at the same rate. People's demands on how to be a good leader apply both now and in the future. 
2. Practice makes perfect!
who was also on the expert panel, stressed the difference that regular exercises can make and the importance of having a system for training and exercises. She also encouraged including the staff in the exercises since during an exercise, plans and procedures are put to the test and this will make your starting point better when a crisis actually hits.
3. Be prepared to motivate your actions and decisions. Document your work!

Remember, even when in the midst of a crisis, that questions regarding accountability will eventually be raised. The public's perception of what has happened and who is to blame will be continuously discussed throughout the duration of the crisis in the social media and will affect the demand for accountability. The accountability process can start early and will require that you as a leader can demonstrate what actions you have taken - and when. It can be helpful to document in a logbook what decisions were made as well as what information you had and what the situation looked like when you made those decisions. Unfortunately, your ability to remember the details will significantly fade over time. 
4. Get advice and learn from others!
One needs to learn how to be a good leader. Research on leadership and crisis management can provide some good hints, which can often be implemented in everyday activities and during a more serious situation. Yet, one obstacle is that research results are sometimes difficult to get a hold of and therefore efforts need to be made to made it more accessible. 
5. Everything is not your fault!
We all have witnessed poor leadership. Perhaps it is because the leader is psychopathic or narcissistic, but the source may be your organization. Leadership is considered destructive when it includes hostility and stifles an organization. In today's world, leaders do not always have the time to be structured or to be interested in their colleagues in the way they may want to. Dysfunctional organizations and circumstances can create destructive leaders.
Expert Panel
The experts on the panel included, from left to right:
Sanneke Kuipers - Associate Professor at Leiden University, Netherlands
Lieutenant General Dennis Gyllensporre - Chief of Defence Staff at the Swedish Armed Forces HQ and Associate Professor at the Swedish Defence University
Annika Brändström - Deputy Director General at the Ministry of Justice and the Head of the Crisis Management Coordination Secretariat
Maria Fors Brandebo - Lecturer, Swedish Defence University
Robert Egnell - Professor and Head of the Swedish Defence University's Department for Security, Strategy and Leadership
The seminar was moderated by Pär Daléus (not present in above photo) - Head of Executive Education at the Swedish Defence University's Centre for Societal Security.
About the SEDU's jubilee seminar
This seminar "Leadership in crisis – tomorrow's challenges" was held on 19 April 2018 in connection with the Public and Political Leadership (PUPOL) Conference. The seminar was recorded and is available here.
This seminar was one of the many activities being arranged to celebrate the Swedish Defence University's 200-year jubilee as a military education institution and 10 years as a higher education institution.