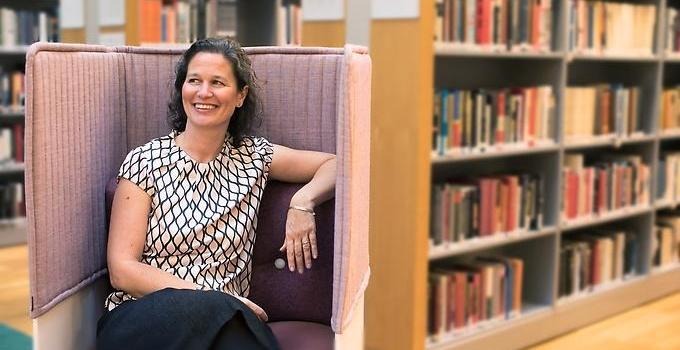 "Unique environment for research on gender, peace and security"
On 9 January 2019, Annick Wibben was appointed the Swedish Defence University's first Anna Lindh Professor in Gender, Peace and Security. Her ambition is to create an environment for the exchange of ideas and knowledge on gender research.
"I hope to be able to contribute knowledge and want to build up a cluster of expertise where we can discuss gender, peace and security, with decision-makers, as well as non-profit organisations and researchers from other universities."
The active research environment in Sweden in feminist studies was one of the reasons that Annick Wibben sought the position. Another reason that weighed heavily was that the Swedish Defence University has close ties with the Swedish Armed Forces and, among other efforts, educates officers.
"The Swedish Defence University is of course unique with a research environment dedicated to gender, peace and security. The closeness to the military also offers opportunities for interesting research, and it's something I would like to explore more in the future."
When we talk at the beginning of the autumn semester 2020, Annick Wibben has been on site at the Swedish Defence University for more than a year and a half. Before the COVID-19 pandemic entered the scene, she managed to get a number of different collaborations and projects started.
"Right now, among other things, I'm working with a research project about Sweden's feminist foreign policy, which I hope will ultimately become a book."
She is interested in the background factors that led to it becoming possible for Sweden to pursue a feminist foreign policy and how it has been received internationally.
"I talk with people who were involved in Sweden's work and also study quite a bit about how these issues were presented in the UN. I want to put Sweden's feminist foreign policy in a broader perspective of feminist activism."
Exchange of ideas
Within the scope of the Anna Lindh Professorship, she also wants to contribute to creating links between the academic world and the political sphere.
"This is something I believe is possible in Sweden, and in particular in Stockholm where we have such close connections with authorities, such as Sida and the Folke Bernadotte Academy. Many discussions are being held and there is extensive interest."
She has also started an internal working group at the Swedish Defence University for the exchange of ideas and knowledge about gender research. During the autumn, she also hopes to be able to resume the lectures and activities she planned during the spring, but that had to be cancelled due to COVID-19.
Feminist security studies
Annick Wibben's research background is in feminist security studies and she has been involved in building up the field in the past 20 years.
"When I began my doctoral studies, these issues weren't yet on the agenda. Many had preconceived notions, such as that women were more peaceful and men more aggressive and so on, but few researchers had begun asking questions from a feminist perspective. So that's what I did."
Her first book – Feminist Security Studies: A Narrative Approach (Routledge 2011) – has been of major significance to the development of the field.
"Feminist security studies are exactly about asking questions, such as about representation, from a feminist perspective, with the premise that gender influences all interactions in society."
As an example, she points out the concept of torture, where official conventions are based on the perception that the person being tortured is a man rather than a woman.
"When a man is tortured with sexual violence, one speaks of torture, while it's not called torture when a woman is raped or attacked with sexual violence in wartime. What happens here is that the perception of who is a political subject is shaped by gender. Torture becomes the frame for understanding sexual violence in conflict against men, but not against women."
Today, feminist security studies have become an established interdisciplinary research field. It encompasses, among other things, studies of peace movements and rebuilding after wars and conflicts, which more traditionally are included in peace research.
"Feminist peace studies is a development of this field where one studies issues similar to those in feminist security studies, but with a more normative approach. Here, the importance of analysing gender – as well as sexuality, race, class and other relationships – as power structures is emphasised.
"A feminist approach to peace research not only challenges what peace means, but also how one investigates it. There is a great deal more to continue working on here!"
Josefin Svensson
In brief
Title: Anna Lindh Professor in Gender, Peace and Security.
Current projects: The research project "The Long Road to Feminist Foreign Policy".
Has recently published a chapter in a book that introduces the subject of feminist peace studies: Feminist Peace Research in the Palgrave Encyclopedia of Peace and Feminist Studies: https://link.springer.com/referenceworkentry/10.1007%2F978-3-030-11795-5_146-1
The article Unruly wives in the household: Towards feminist genealogies for peace research in the scientific journal Cooperation and Conflict:
https://journals.sagepub.com/doi/10.1177/0010836720938397
When I have time off: I like to be out in nature.
Last book read: In the Wake: On Blackness and Being by Christina Sharpe.
Hidden talent: I am a downhill skiing instructor.
I like to discuss: Almost anything, actually, but issues concerning feminism above all.
My driving force as a researcher: Curiosity!