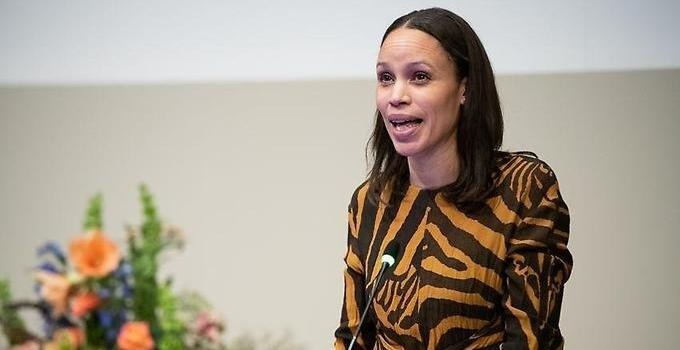 How wars and conflicts affect the individual
The impact of war, conflicts or lack of security on the individual is the main theme of Mariam Bjarnesen's research. Drawing on ethnographic research traditions, she has conducted several field studies in West African countries.
"Showing that a question or issue can be complex with different aspects to it, and not necessarily black or white, is both a challenge and something that drives me", she says.
Mariam Bjarnesen, senior lecturer in War Studies at the Swedish Defence University, was recently awarded the Hugo Raab Prize, awarded annually by the University to a researcher or student for producing scientific work of exceptional quality. Bjarnesen was awarded the Prize in recognition of her book: "Repurposed Rebels: Postwar Rebel Networks in Liberia," an adaptation of her doctoral dissertation. Based on the 14-year-long civil war in Liberia, which officially ended in 2003, the book investigates the nature of internal conflicts and the impact of war on the individual, and also examines how former rebel soldiers use their networks to find new roles in society after the conflict.
"I've had a strong interest in the nature of war and how it affects the individual for a long time. It probably emerged in connection with the conflicts in West Africa that lasted from the late 1980s to the early 2000s. Even when in high school, I was affected by the violence and human suffering in the region."
The study of war and the individual's role in conflicts, especially in West Africa, is a familiar theme that runs through Bjarnesen's research.
"War can be studied at so many different levels and from different angles. I focus on people and how wars and conflicts affect the individual's actions in general. I am interested in people's stories and their choices and strategies in these complex situations."
"Something that also drives me, and which is at the same time challenging, is to show that there can be several sides to an issue, that it isn't just black or white. All the choices people make to live and survive, it's that complexity that is both challenging and interesting."
From research assistant to doctoral student
Yet, a career as a researcher was not something Bjarnesen had planned from the beginning. After completing a Master's in Peace and Conflict Studies at Uppsala University, she started as a research assistant at the Swedish Defence University in 2007.
"At that time, I wasn't intending to pursue a doctorate. I thought the field was exciting and wanted to work more practically, but when, as a research assistant, you work with research anyway, you might just as well go the limit and conduct research yourself."
Consequently, she applied to King's College London and was admitted as a doctoral student in War Studies, and that was it.
Ethnographic approach
In terms of preferred research methodologies, Maryam Bjarnesen is inspired by the ethnographic research tradition, in which the researcher observes study participants (people) in different, "real-life" contexts.
"Of course, it was easier before I had a big family, as my husband and I have five children between us. But he's an anthropologist and conducts research in the same part of the world as I do, so we've done fieldwork in, for example, Ghana and Burkina Faso, and have been able to take the family with us."
While in Ghana, Bjarnesen investigated the impact of informal security structures, so-called vigilante groups, on the security situation in the country. This work was reported in a scientific article – "Agents of urban (in) security: contextualizing the banning of political vigilantism in Ghana" – and published in the Journal of the British Academy in early December, last year.
"It would be fun to be able to continue doing this type of ethnographic research, but we'll have to see if the practical issues can be resolved."
Another current research project, a little closer to home, is a study Bjarnesen is conducting with Annick Wibben, Professor of War Studies at the Swedish Defence University, to investigate the work being done on gender mainstreaming in the Armed Forces.
"We have completed the foundational work and I hope that, within the framework of the project, I can also carry out ethnographic studies and meet individuals in conjunction with this."
Bjarnesen has also had a long-term interest in gender equality issues, stemming from her first experience of conducting fieldwork in Sierra Leone as a student, on the topic of female rebel soldiers.
"The connection between gender factors and war has always been there, so it feels exciting to look at gender, war and the armed forces in a Swedish context."
Josefin Svensson
In brief
At the Swedish Defence University since: 2007.
Current projects: One of the 2021 recipients of the Swedish Defence University's Hugo Raab Prize for scientific work of exceptional quality, and with the article: Agents of urban (in) security: contextualizing the banning of political vigilantism in Ghana, Journal of the British Academy.
In my free time: I'm with my family, we enjoy outdoor activities, especially being in the forest
The last book I read: a children's book called "Horrible facts about horrible creatures" by Anna Hansson.
Hidden talent: I'm a fast skater.
I like to discuss: with people.
Driving force as a researcher: To provide explanation and show a broader picture of complex issues.