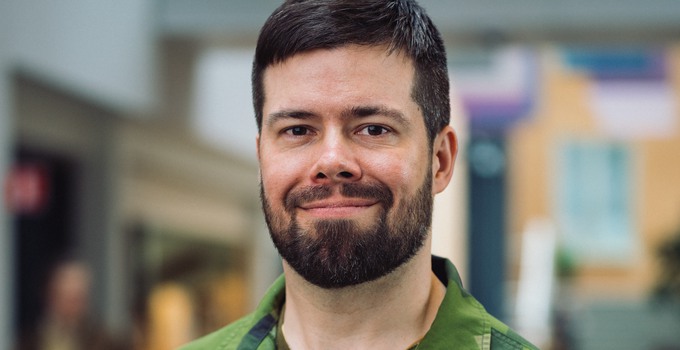 "It was rewarding to go from confusion to clarity together"
Captain Max Sibbern participated as one of 320 Swedish and Finnish officers in TEJO 23 (Training Event Joint Operations). The exercise consisted of a week of preparation and a week of wargaming and tabletop exercises.
Max Sibbern is a captain in the Swedish Army and is studying the first year of the Higher Joint Command and Staff Programme. He was one of 320 Swedish and Finnish students who participated during TEJO 23 which was organized by the Swedish Defence University and the Finnish National Defence University.
After a week of preparatory workshops and lectures, he described the second week of the exercise, "I was the group leader of a group of Swedish and Finnish officers from all branches. Together with a Finnish colleague, we alternated the roles of leading the group work while the other continued planning for the next portion of the exercise."
Fictional scenarios but real life implications
Sibbern explains that even if the scenario was fictitious, everyone understood the seriousness, not least given the current threat level and geopolitical instability. He continues, "Regardless of the scenario we are working with, the most important aspect still remains in the multi-national collaboration. Since it is likely that we will work together to an even greater extent in the future, it is important that we take the opportunity to increase mutual understanding of each other's respective methods, cultures, and experiences."
According to Sibbern, a large part of the challenge with staff work lies in being able to analyse all incoming information quickly in order to achieve concise results effectively. He continues, "The change from one exercise task to another often took place at short notice, which made it challenging to lead the staff work."
'Tuote edellä ' or ' product primarily'
"While it was demanding, it was also rewarding to collaboratively create the conditions for structure and efficiency– and above all to encourage creativity. Due to time pressure, we had to choose between setting aside time for discussions or focusing on developing viable products." 'Tuote edellä' is an expression that I picked up from the Finnish officers, and it can be translated as "product primarily". We used it in a humorous way to bring about a transition from creative discussions to producing results".
In addition to the actual acquisition of knowledge, Max Sibbern especially appreciated the opportunity to network for the future. Sibbern adds, "We've had fun together and have been able to switch quickly between humour and seriousness when needed. While working together in small rooms for many hours, we have made good contacts that I am convinced we will carry with us in the future."
Division of duties: a factor for success
Max Sibbern discovered that the group could increase efficiency by dividing the work. He continued, "We strived to create subgroups where both Sweden and Finland were represented. When we were under time pressure, we often divided ourselves into even smaller groups that focused on different parts of the task. Then we briefed each other and compiled the work into a final product. This process worked well, largely thanks to the group's commitment, whereby space was created for both discussion and development of products."
Group reflections contributed to aha moments
"Even though it was not always fun at the time, it was rewarding to go from confusion to clarity as a group. It was not until the consolidation processes in combination with reflection and analysis that we ourselves understood the entirety of what we discussed, and this contributed to several aha experiences."
What did you think of how the exercise was arranged?
"It was intense but enriching. Several of us found the exercise to be of high tempo. This meant that we learned quickly, but in the evening we most of us felt mentally tired."
Enriching collaboration
According to Max Sibbern, it is always enriching to work together with other nations, and working with the Finnish officers was very easy. Sibbern notes, "I am convinced that all of us who participated in this exercise now has an increased understanding of the similarities and differences between the ways in which our armed forces operate. The exercise has confirmed that collaborative staff works extremely well." He goes on to say, "this is seen in how we communicate and collaborate that there is a mutual willingness to identify synergies, and the question is hardly whether we will work together again – but rather when."
However, Sibbern would have preferred that more time was set aside for informal cooperation, socializing, and exchanging experiences between Finnish and Swedish officers. For his part, however, he has made personal contacts with whom he looks forward to being able to spend more time with, including during the upcoming vacation period! "In addition to collegial cooperation, the exercise has also laid the foundation for friendships," he said.
What are the most important takeaways from TEJO 23?
"Despite time pressure and the complexities of joint staff work, our similarities in cultures and methods, combined with our mutual willingness to cooperate, ensure any differences are easily overcome. Although differences definitely exist, creating an open environment to reflect and discuss issues increases our understanding and allows us to become stronger and more creative together. The key is to communicate, be receptive to others inputs in order to create an open and positive spirit together".