Caroline Holmqvist
Universitetslektor
Krigsvetenskap
Organisation
Institutionen för krigsvetenskap och militärhistoria
Strategiavdelningen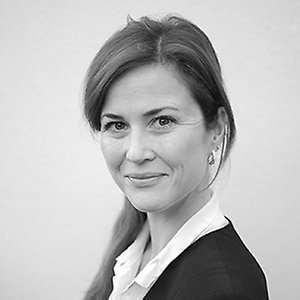 Beskrivning om dig själv

Forskningsområden: krigen i Afghanistan och Irak; kriget mot terrorism; liberal interventionism; amerikansk krigföring (drönarkrigföring; automatisering/robotisering av krig); privatisering av säkerhet/privata militära företag; amerikansk och brittisk utrikes/försvarspolitik.

Politisk filosofi, kontinentalfilosofi, kritisk teori, IR-teori.

Tidigare befattningar:
- Visting Scholar, Department of Politics, Tel Aviv University (2018-2019)
- Chair in Peace Studies, Université libre de Bruxelles (2015-2016)
- Research Fellow, Centre for International Studies, London School of Economics and Political Science (LSE) (2011-2013)
- Forskare, Utrikespolitiska institutet (UI) (2009-2010; 2014-2017)
- Researcher, Stockholm International Peace Research Institute (SIPRI) (2004-2006).
- PhD in War Studies (2010), King's College London. MSc and BSc (First Class Honours) in International Relations, London School of Economics and Political Science (LSE).

AREAS OF RESEARCH

Centred on contemporary war and violence, my research follows three main tracks. The first track concerns war and the human subject. This is in many ways the point of origin of my work: the question of what it means to be human, and how the interpretation thereof is conditioned by the ever-presence of violence, insecurity and war. My work explores vulnerability and precariousness, and the pivotal role they occupy in contemporary power relations. The article 'War, "strategic communication" and the violence of non-recognition' (Cambridge Review of International Affairs 26:4 (2013) interrogates the ethical relations between intervening US military forces and local populations in Afghanistan, drawing on Judith Butler and Emmanuel Levinas to explore the ethical relation embedded in the idea that a population's hearts and minds can be 'won'. A book chapter, 'Enlisting Madison Avenue: contemporary war masquerading as a communications enterprise' (in Masquerades of War ed. Christine Sylvester, 2015) extends this inquiry to the realm of the global capitalist system, to show how such ethico-political relations carry over from 'war' to 'peace'. I have pursued war and the human also via the questions of embodiment, including a critical material inquiry into contemporary automated/robotic warfare ('Undoing war: war ontologies and the materiality of drone warfare', Millennium Journal of International Studies 43:4 (2013).

My second research track concerns war and society. Building on earlier work on liberal interventionism (Holmqvist, Policing Wars: On Military Intervention in the Twenty-First Century (2014), and its military-civilian-humanitarian assemblage structure (co-edited War, Police and Assemblages of Intervention, contributions by Laleh Khalili and Mark Neocleous), I am currently working on European societal developments in relation to the renewed 'war on terror', focusing on France. I am interested in the racial and gendered structures of debates surrounding the refugee 'crisis'.

The third research track concerns time, temporality and global relations of violence. Funded by a Swedish Research Agency Project Grant (2014-2017), this project asks how subjective understandings of time (temporality) condition the way in which we think about politics and the political. Moreover, I am working the conflation of 'war time' and 'peace time' and the ways in which the modern understanding of war as spatially and temporally bound seems to haunt our ability to understand contemporary violence in political terms.
Caroline Holmqvist
Swedish Defense University
Universitetslektor