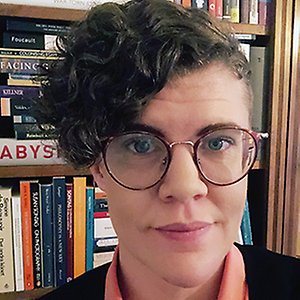 Anna Danielsson
Proprefekt, Docent
Institutionen för krigsvetenskap och militärhistoria
Strategiavdelningen
Krigsvetenskap
Beskrivning om dig själv

Anna Danielsson is Associate Professor and Senior Lecturer of War Studies. She is currently the Deputy/Academic Head of Department (research) at the Department of War Studies and Military History.

Anna Danielsson joined the Swedish Defence University in January 2019. She was previously a postdoctoral researcher and lecturer at the Department of Government, Uppsala University. Anna has also been a visiting researcher at the Department of International Politics at Aberystwyth University, and a visiting researcher and lecturer at the Institute of Political Science at the Eberhard Karls University of Tübingen.

Anna Danielsson's research is situated at the nexus of war studies, the sociology of war, international political sociology, social theory, critical peacebuilding studies, and the history and sociology of knowledge. Thematically, she currently conducts research in two main areas. First, Anna works on issues pertaining to urban security and urban war, urban warfare, and urbicide. Second, she conducts research on the epistemics of international interventions and military operations – with a focus on urban peacebuilding and the entangled production of knowledge and space in urban peacebuilding interventions.

Starting in January 2021, Anna holds a research grant from the Swedish Research Council for Sustainable Development. Her project "Urban wars and postconflict reconstruction: Peacebuilder production of knowledge and space in urban environments" explores the constitutive links between cities, war, and peace. Specifically, the project analyses knowledge practices that seek to make known and produce urban spaces as distinct objects of intervention.

In her previous work, Anna researched dynamics of power and informal economies in post-/conflict environments.
IKVM 2021

Anna Danielsson