Finding a printed book in the library
If you want to find a printed book in the library, a good start is to search for the book in the Primo search tool, which you can find on the homepage of the website.
In Primo you can see which shelf the book is on and whether it has been borrowed or not. The information can be seen in the form of a hit list. You can search for course literature and e-books in the same way.
Do you want to know more about how to search for e-books in this way?
Search for books
You are searching for: Bell, Judith, Introduktion till forskningsmetodik. 5., uppl. Lund, Studentlitteratur 2016.
Search for a few words from the title and/or author's name.

Click the magnifying glass.

You will now see a hit list that matches your search. In this case there are several editions of the book. Click on the book you are interested in and you will get more and clearer information.
Where is the book?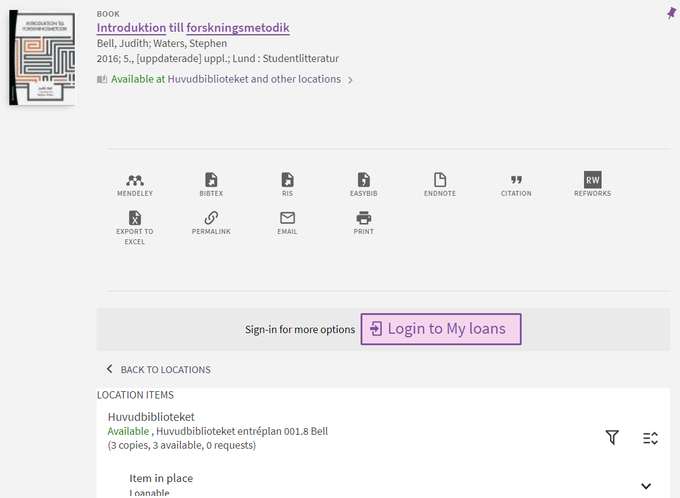 Here you can see how many copies of the book are in stock and available for loan. The location of the book is on shelf 001.8 under Bell. If a book has several authors or editors, it may be under its title.
Find the book on the shelf
Once you have found the right shelf, find the right section on the shelf. The titles follow each other in numerical order. The book is at 001.8
Now it's time to look for the right book. The books are arranged alphabetically by the word/name on the label on the book's spine. In this case, BEL
More help?
Now you should have found the book. If you haven't done so - come to our info point and ask a librarian for help. We are happy to help you look!