Find an article with a web browser extension
If you, as a student or employee, install a web browser extension you can search and find the library´s electronic resources via Google or other search engines.
If your computer is from the Swedish Defence University the extension is already installed in Chrome and Edge. In 2022 there will be support for the browser Safari as well.
The extension will tell you via a symbol if there are library full text resources in your search result. That means you can find full text articles even without the library database list or the search tool Primo. This extension can be a good complement to Primo when searching.
Chrome
You download the extension LibKey Nomad via "Extensions" in Chrome (chrome://extensions/). When clicking on the extension you choose Anna Lindh library from a list.
Edge
You download the extension via "Extensions" in Edge (edge://extensions/) and proceed as in Chrome, described above.
Firefox
Download the extension via "Add-ons and themes" and select Anna Lindh library.
How the extension works
When the extension is installed and active everything owned by the library will be indicated with a symbol when searching in, for example, Google.
Example:
You are searching an article with the key words "media narratives battles for Aleppo and Mosul" on Google and you get this result below.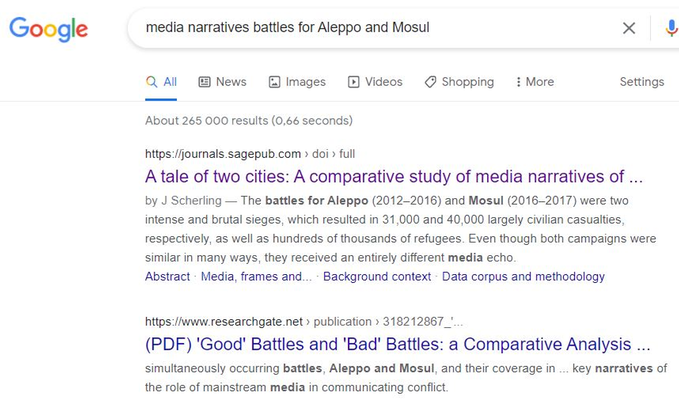 When you click on the first link in the result you will end up in the database Sage but you are still outside the library. However, the browser extension will indicate with a symbol in the lower left corner that this article is available in full text in the library. Click on the symbol and you will get to the article in fulltext.