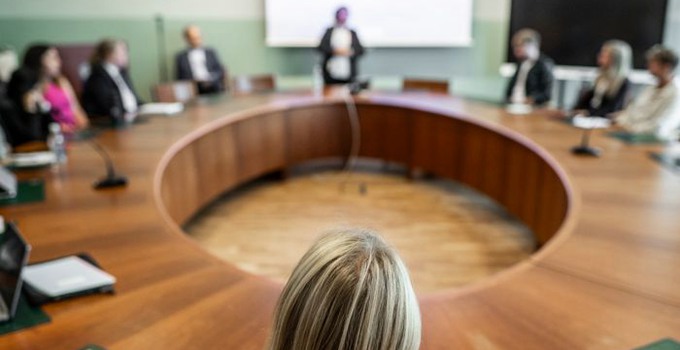 Internship is an important part of the education
Doing an internship can be an important part of your education and a quick and educational way into your professional life.
In order to do an internship, you must be accepted and registered on an internship course during the semester when the internship is offered. Most of our programmes include an internship as an elective course, the only exception being the one-year International Master's Programme in International Operational Law. While it is your own responsibility to arrange an internship, the Swedish Defence University's large established network of companies, authorities, and national and international organisations can help you.
Internship provides professional experience
During the internship you will participate in the daily work to gain work experience and apply your knowledge. The internship course comprises one semester, 30 credits, except for the master's program Innovation, Defense and Security, where the internship course comprises 12 or 15 credits.
Examples of workplaces
Below, you will find a list of examples of workplaces where students from the Swedish Defence University have done their internships recently.
Private security companies (defence, risk and crisis management, cybersecurity)

2Secure
Scandinavian Risk Solutions
Intil Group
SRS Security
Vesper Group
BAE Systems Bofors
Secana
SAAB
Ramboll
4C Strategies
SOFF – Security and Defence Companies
Armed Forces/military placements

Placement in regiment
SWEDINT (Swedish Armed Forces International Center)
Swedish Defence Materiel Administration
Nordic Center for Gender in Military Operations
The Finnish Defence Forces Veterans Centre
Naval Striking and Support Forces NATO (STRIKFORNATO)
NATO JFC HQ "POLAD"
Embassy activities

Embassy of Sweden in London
Embassy of Sweden in Vilnius
Embassy of Sweden in Abu Dhabi
Embassy of Sweden in Kigali
Embassy of Sweden in Athens
Embassy of Sweden in Ankara
Swedish authorities

MSB
UD
Page
FOI
FBA
Police authorities
Doj
Government offices
County Administrative Board (often focus on total defence)
Peace and security organisations

People and defence
Expert Group for Aid Studies
Women's International League for Peace and Freedom
Chôra Foundation
Swedish Peace and Arbitration Association
Swedish Red Cross
Woman to Woman
EU level

Government Offices (EU affairs)
The Ministry for Foreign Affairs' EU Unit
Representation of Sweden in Brussels
International organisations

OSCE
IDEA
Sweden's UN delegation in New York
Doctors of the World
UNESCO
IOM (International Organization for Migration)
George C. Marshall, European Centre of Security Studies