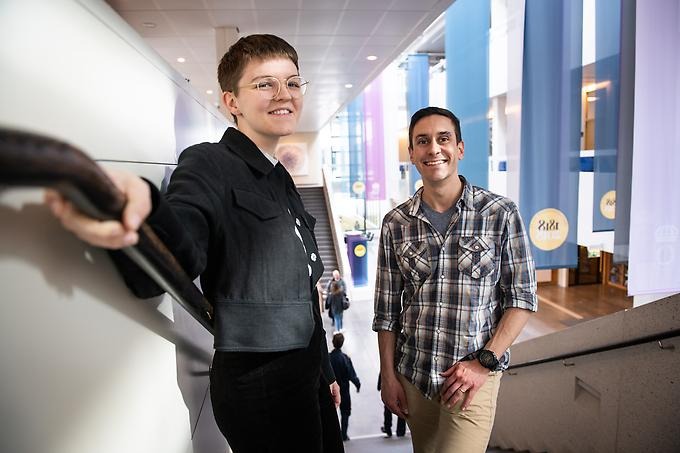 When Emma Henriksson began her search for an academic programme in peace and security, little did she think she would end up studying at a defence university. But the two-year Master's programme in Politics and War at the Swedish Defence University (SEDU) turns out to have been exactly right for what she wanted to do.
Henriksson and her fellow students have embarked on an interdisciplinary journey through Political Science, Security Studies and War Studies. They have joined an elite collective of students and researchers who bring diverse perspectives to the multitude of issues that tie these areas of study together.
Interdisciplinary excellence
After receiving permission in 2018 to grant two-year Master's degrees, SEDU welcomed last year's incoming class as the first to experience the programme's rigours and benefits.
The university's unique programme brings together two groups of students specialising in either War Studies or Political Science with a focus on security and crisis management. Over the course of two years, the two cohorts work in parallel and together on SEDU's small campus, where they mingle with civilian researchers and military personnel.
The mix is stimulating, Henriksson says. Peace studies, while interesting, is missing something: what is security? And while she knew she wanted to study politics and war, and gain the tools to conduct deep and thoughtful research, she also wanted to use a critical feminist lens, to explore the links between gender and war. She also brings climate change into her work, examining the connections between security and climate-related environmental changes, such as water scarcity.
Henriksson's classmate Walter Biner, a major in the US Army, recently found himself discussing EU politics and security with his classmates at SEDU and feeling amazement at how open the group was to hearing different perspectives. War Studies, he says, usually tends to be straight history of warfare. "A lot of this stuff is new to me," says the former commanding officer of two companies and veteran of the war in Afghanistan. With an undergraduate degree in history and trained in military thinking at the tactical and operational level, Biner now finds himself delving deep into the most fundamental of questions: what is war? What is security? What is peace?
Answering these questions, it turns out, requires the multi- and interdisciplinary approach embraced by the new two-year Master's programme at SEDU. Each student brings very different experiences to bear on their academic work. Few have experience in the military, and as International Relations or Peace and Conflict majors, they are learning new angles on global and local issues.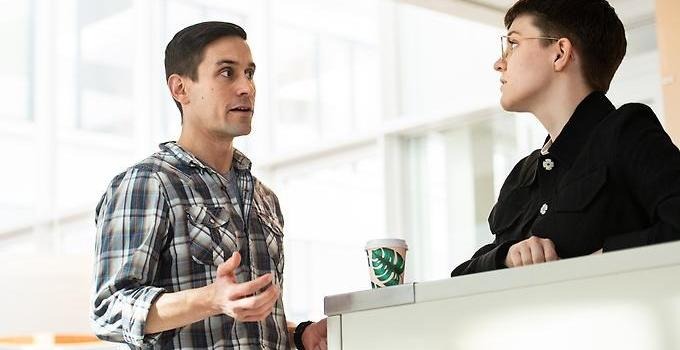 Students from Ukraine and Georgia have lived through recent invasions and war conditions, while the Swedish students have grown up in a country that prioritizes different aspects of security, including gender equality. Biner says that his cohort of classmates come from various academic and cultural contexts, with "totally different views," and yet their discussions remain friendly and eye opening for all.
Eclectic mix
While different core courses are required for the War and Politics tracks, a broad range of optional courses is available to students from both tracks. Students can choose topics such as diplomacy and deception (think: information warfare); political psychology and crisis management; terrorism studies; special operations; or European security and crisis management. Students take six courses in their first year of work, choosing from a dozen, and enrol in one course at a time for an intensive teaching experience.
Tom Lundborg, Associate Professor of Political Science and Head of the Master's programme in Politics and War, notes that this interdisciplinary programme is taught by a diverse faculty, in an eclectic, interesting mix that students would struggle to find at other universities. Creating the SEDU programme "came very naturally," he says, as it "drew on the strengths of the people and research already going on here." Teaching security along both traditional and non-traditional lines of thought includes focusing on inter-state conflicts as well as on transnational security issues such as climate change, migration, and cybersecurity.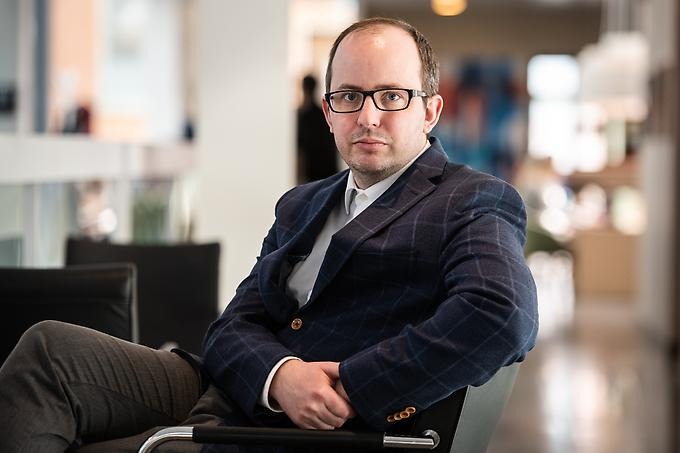 Small seminars mean that intimate conversations can play out in class, as well as at the university's pub, as the students get to know each other over their two-year experience. Such intimacy "makes class more fun, with more conversation," Henriksson says, compared to her experience as an undergraduate at a larger university where students could be more anonymous. "Everyone is so interested in the same general topic, security, but because we have different interests and contexts, our conversations are marked by wanting to understand. We end up covering a lot of aspects with depth and breadth."
A huge plus, Henriksson says, is the mix of civilian and military personnel. "Unlike most universities, it's not just academics running around. We see people in uniform every day." Visiting military officers from other countries and academic researchers bring different forms of competence together in an immediately obvious way, she says, making the applied aspect of her research more real. And she finds the setting "challenges her stereotypes" of the military as well as civilian contexts.
Henriksson has been editing manuscripts for a journal started by faculty at SEDU; this and other extracurricular academic activities are an added bonus. She jokes that she doesn't have time to sleep because the campus hosts too many interesting seminars and events that she wants to attend. The same building that houses SEDU is also home to the Swedish Institute of International Affairs, and SEDU shares campus space with the Royal Institute of Technology (KTH).
"The programme is very well organised, challenging, and academically satisfying," Biner comments. He says the methods coursework brought everyone up to the same level of how to conduct research, regardless of their past academic experiences. He himself is returning to school after over a decade of working in the military, and says he found SEDU to be extraordinarily welcoming to him as a so-called mature student. Many students in the programme have several years' working experience, while others are entering straight after undergraduate work.
From theory to application
For the first year of coursework, students in the War and Politics tracks work mostly side by side, learning together. In their second year, students in the Politics track write their theses in the autumn and take internships or practicums in the spring. In the War track, students intern in the autumn, then write their theses in the spring.
Some students already know where they will intern, for example at the Swedish embassy in London. Others have been recruited by security consultancies focused on cybersecurity. These companies are interested in getting people that have the breadth of knowledge of warfare, politics and security that SEDU students can bring, says Lundborg. Former graduates of SEDU's already established one-year Master's programme provide contacts to a wide variety of organisations where students can work, and the reputation of the programme opens even more doors.
"There are so many interesting places to work in Stockholm," says Henriksson, who as a student in the Politics track will do her internship in the spring semester. She lists the Swedish International Development Cooperation Agency (SIDA), the Stockholm International Peace Research Institute (SIPRI) and other organisations located in Stockholm, as well as embassies abroad. Biner is contemplating offering to teach or mentor Swedish military officers, in order to get a more direct view into Nordic military thinking.
End strategies
Both students are pondering their thesis topics, and the end of their studies with a mix of trepidation and excitement. Biner will be one of the few members of this year's SEDU class going back to a military job. He says he knows that his course work will have made him a more desirable candidate for specific positions in the US Army. "I know when I get back that I will be able to offer a perspective on strategic and operational plans, here and worldwide."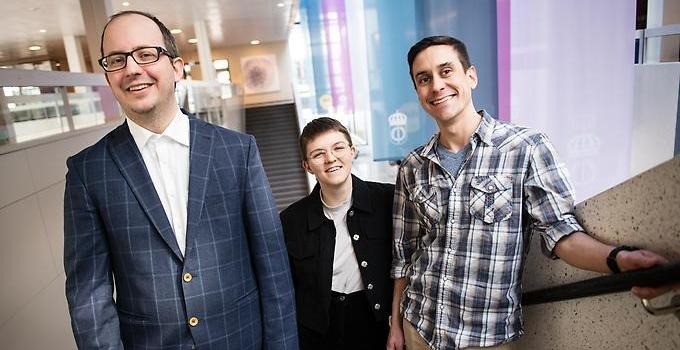 The coursework already has broadened his view of different military attitudes and how Nordic countries, for example, might approach security and peace issues. "I know I am a better officer coming out of this programme," he says. Being at SEDU "is invaluable to me because of that."
"I didn't want to continue studying, I wanted to work," Henriksson says of her decision to embark on the two-year Master's programme. But coming to SEDU will provide her with the perfect launching pad to mix research into her future work, and perhaps land a position at a think tank or other organisation that would welcome her background in politics, security and war at SEDU. With war and climate change coming together around the globe, and a rising awareness of gendered implications to peace, war and security, she says, "it's an interesting time to study these topics."
Page information
Published:

2019-04-18

Last updated:

2023-10-19