War and Defence studies in tranquil Sweden
Duncan Cooper, originally from Scotland, returned to the Swedish Defence University for his master's after a memorable exchange semester. He is now studying war and defence against the backdrop of Sweden's peaceful way of life.
At 22, Duncan Cooper, a top-tier graduate from the University of St Andrews, is now pursuing his master's in War and Defence Studies at the Swedish Defence University. However, Nordic politics and the Swedish lifestyle are not new for him.
What motivated you to focus on hybrid warfare in Sweden and Finland for your bachelor's dissertation?
"I've always had a connection to the Nordic region because of family holidays here while growing up. A course on irregular warfare here really lit up my interest. With Sweden and Finland currently rethinking their stance on NATO, I find it compelling to learn more about the role of hybrid warfare in these decisions."
As you pursue your master's at the Swedish Defense University, how do you plan to delve deeper into this topic?
"I'm keen on exploring defence and security in the Nordics, especially from Sweden's point of view. My background might offer a fresh perspective, but I know there's lots more to grasp. I plan to use all the university offers, discuss with peers, and delve into research that sheds light on the Nordic region."
How did your interests evolve to lead you to study security at the Swedish Defence University?
"Growing up in Scotland, I had a keen interest in our foreign policy and Europe's role in it. At St Andrews, my fascination with security studies grew stronger. My desire to understand war, rather than romantize it, led me to Sweden. The balanced lifestyle here, especially the connection to nature despite urban development, feels just right. It was a leap of faith, but a choice I'm proud of."
Any particular topics that have captured your interest?
"During the first semester, we touched on everything from major wars to terrorism. One highlight was a hands-on wargaming week. But I found myself especially interested in irregular wars, like those in sub-Saharan Africa. Understanding the strategies and dynamics of these conflicts and their place in our world today has been eye-opening."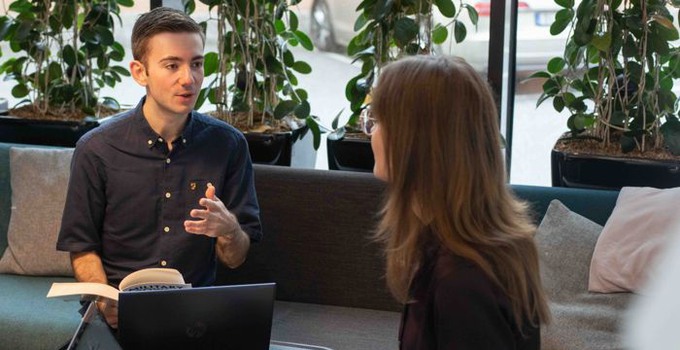 How has Sweden's calmness and lifestyle influenced your perspective on defense, especially coming from Scotland?
"Sweden's 'Lagom' principle, which is about balance, combined with Sweden's deep-rooted connection to nature, resonates with me. It offers a contrasting backdrop to my studies on war and defence. While these subjects can be intense, Swedish culture gives me a sense of balance. My Scottish background adds a unique layer to discussions, and the support I've received, especially in understanding Sweden's defense nuances, has been invaluable."
How would you describe the environment at the Swedish Defence University?
"It feels like family. We all get to know each other, which strengthens our discussions on defence and security. The professors are knowledgeable, and their expertise shines in our lessons. The university emphasizes inclusivity in all its activities and communications. Throughout my time here, I've always felt welcomed and supported."
Do you have a specific career goal after university?
"While I'm thoroughly enjoying my studies, I'm exploring several career paths. Think tanks, defence consultancy, and academia are on my radar. The upcoming internship in my final semester will give me practical insights and guide my future choices."
Do you see a future for yourself in Sweden?
"I'm really enjoying my time in Stockholm, appreciating its open-mindedness and the Swedish "lagom" lifestyle that aligns with my hobbies. I value the inclusivity I feel here. I'm hopeful my studies will pave the way for career opportunities, so I'm genuinely considering staying after I graduate."
Quick facts about Duncan Cooper:

Age: 22

From: Scotland
Studied: International Relations in German at St. Andrews

Experience: Exchange Semester at the Swedish Defence University; Interned for the Scottish government in Ottawa, Canada

Studying now: Master's in War and Defence in Sweden
Advice for students: Just go for it. Here, you'll not only expand your knowledge but also develop a unique perspective geared towards fostering peace.
Other activities: I regularly attend insightful lectures, some led by city dignitaries and even the head of the International Atomic Energy Agency, IAEA.

Hobbies: I love reading. I'm not much into sports, but I really like cross-country skiing. It's another reason I love Scandinavia.

Top book recommendations: "On War" by Carl von Clausewitz; "World Order" by Henry Kissinger; "The Hunger Games" by Suzanne Collins.
Page information
Published:

2023-10-18

Last updated:

2023-10-18