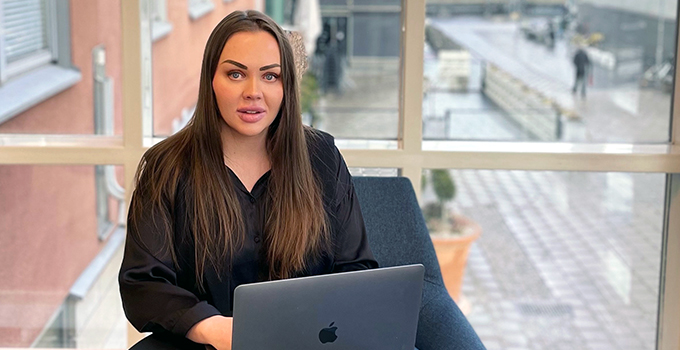 From military scientist to cybersecurity analyst
Already as a teenager Margarita Sallinen knew that she wanted to work with her country's defence. At present, she is working as a cybersecurity analyst at the expanding Swedish company Paliscope.
Paliscope assists companies and government agencies in managing cybersecurity threats, risks and organised cybercrime. It was a guest lecture at the Master's programme Politics, Security and War that determined Sallinen's career.
What does your role as cybersecurity analyst entail?
"I keep in close contact with customers, monitor the cybersecurity landscape, conduct business intelligence and provide advisory services. With these risks always present and rising, we also work with a managed service in which we monitor the supply chain's and our customers' suppliers' cybersecurity, in other words assess third party risks."
"It's rewarding working closely with our customers, understanding their increasingly complex environments and helping them in the ever-changing threat landscape. We work with different automated tools and analyse risks by, for example, monitoring the Darknet. We then inform about the risks that the customer faces and provide advice on how to manage and minimise them. There is no general advice, they are tailored to the specific challenges."
"It's very exciting and varied in a world that continuously changes. You need to work fast, occasionally with short deadlines."
Tell us about your team.
"I'd like to start by refuting the myth that you need to be a hacker or programmer to work with cybersecurity. My team is young and consists of people with different skills. My colleagues have studied systems sciences, international law, peace and conflict studies, information security and leadership. And I've studied war. We make use of all perspectives and everyone contribute with a piece of the puzzle to the totality."
Which piece of the puzzle is your contribution?
"The macro perspective, for example. As a military scientist, I can provide a geopolitical and geoeconomic analysis of cybersecurity, insights into threat actors' underlying driving forces and how they make use of cyberoperations in their threats in cyberspace. But also, what consequences this might have for a certain industrial operation, for example."
What attributes do you need in your role?
"I need to be analytic, creative and intuitive. Digitalisation and technology is advancing rapidly and you need to stay one step ahead. You shouldn't be apprehensive about thinking outside the box when attempting to predict the threat actors' next move."
What drives you?
"I believe that we as young people are enthusiastic and have a tremendous drive in helping and contributing to society based on the background and platform you have. That's a common denominator in my team. Cybersecurity in a wider context is about societal security. We help companies and agencies to stay secure in cyberspace. If you look at the bigger picture this is about Sweden's security and, at the next level, an issue about geopolitics and geoeconomics. We also often see that our customers train their staff, who in turn inform and share knowledge with friends and family. The more we all know about cybersecurity, the more resilient we become as a society."
What is your dream for the future?
"I believe in continuous development and wish to develop further as an analyst. One dream I have is to work with awareness aside from my analyst role, perhaps by conducting training and lectures as well as helping to produce teaching material for universities. I would also like to help young women get into the cybersecurity industry. I want to do the same for others and open the same doors as the Swedish Defence University has done for me."
Tell us about your path to where you are at present.
"I was probably 16 years when I was certain that I wanted to work with defence issues and societal security. My idea was to join the Swedish Armed Forces as a soldier. But since women weren't as actively recruited to the Armed Forces when I was younger, I started exploring universities. That's when I found SEDU. When I understood that you could study here as a civilian, I immediately knew that was what I would do."
"After a few individual courses in military history and command and control science, I studied for my Bachelor's degree in counterterrorism, security and intelligence with a focus on policy and international relations at the Edith Cowen University in Perth, Australia. Upon completing my studies in Australia, I returned to Sweden and SEDU's Master's programme Politics, Security and War."
The Master's programme Politics, Security and War has two tracks. Why did you choose War Studies?
"I wanted to learn more about the dynamics of armed conflict, military power and examine more closely various aspects of defence issues. It's an interest that has been close to my heart. Here, I could continue studying the defence sector without a military background. I was also attracted by the fact that this focus is unique both for Sweden and the world – that it actually only exists at SEDU."
"You then find your own perspective in War Studies and I selected cybersecurity, where you can, for example, study how offensive cyber operations are utilised as weapons by some countries."
How did you get into the field of cybersecurity?
"In a course on European security, we had Sarah Backman as guest lecturer. When she spoke about cybersecurity something happened in me. I felt that this was so incredibly important and relevant, so why was it that I didn't know all this? There and then I decided that this would be my field."
So, it just clicked?
"Yes exactly, that's what it did. Backman was very supportive and gave us the advice to ensure that we should seek to be with experts in the industry and learn from them. You can study a lot but nothing beats standing beside someone who is active and skilled in an area."
"That was precisely what I did by choosing an internship at SEDU's Centre for Asymmetric Threats and Terrorist Studies (CATS). There, I learned more about cyber and influence operations. I participated in writing a report with my supervisor about which unexpressed norms that can be discerned among nine countries that violate international agreements in cyberspace. I also received tips on what I should consider when completing my thesis. The thesis was about how the perception in the US of cyber weapons and offensive cyber operations has developed during the past ten years. After my final term I continued working at SEDU over the summer with a focus on cybersecurity."
"Then one of my supervisors from CATS contacted me and asked whether I was interested in the post as a cybersecurity analyst at Paliscope."
Thinking back, how did you experience the Master's programme?
"It was different than what I had expected – and only in a positive sense. Focused, yet flexible. My expectation was to study conventional warfare and the associated dynamics. In these studies, we were trained in being analytic through scenario games."
"But I also could benefit from perspectives that I didn't know belong to War Studies. This area is really what you make of it and we were encouraged to examine different perspectives and acquaint ourselves with new theories that perhaps hadn't been tried before. As an example, I was introduced to constructivism, which is based on unspoken norms. I wrote my thesis and later the report that was published during my internship based on that theory."
"What really stands out are the lecturers. They are experts in their respective areas, and are genuinely interested in teaching what they know. They have the determination to get us to understand. Their engagement and encouragement characterise my studies at SEDU."
Short facts about Margarita Sallinen

Age: 32 years
Raised in: Solna
Studies: Bachelor's programme in counterterrorism, security and intelligence with a focus on policy and international relations at the Edith Cowen University (Perth, Australia) + Master's programme Politics, Security and War with a focus on War Studies at SEDU.
Each day I read: Loads. Business intelligence is a part of my job and a great interest. The Record by Recorded Future is good.
Favourite food: Everything cooked over an open fire in nature.
Which is the most common question you get when saying that you are a cybersecurity analyst? People wonder what my background is and are surprised that it's social sciences and not technology.