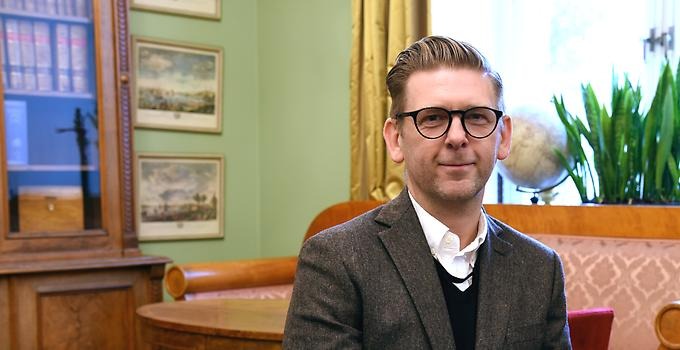 How is leadership affected by the organisation?
Erik Berntson has long been interested in leadership issues and his research focuses on the organisational conditions for managers in leadership positions.
"There is quite a lot known about what constitutes good leadership and what effects good leadership has. I look mainly at the interaction between the individual and the organisation and how that affects leadership", he says.
Erik Berntson has been employed as a professor of leadership at the Swedish Defence University since mid-August. He comes from a position as senior lecturer at the Department of Psychology at Stockholm University, where he has worked since 2007.
"At the Department of Psychology we have supervised PhD students from the Swedish Defence University for a long time already, so when this position in my field came up, it felt natural to apply."
Prerequisites for leadership
He has focused on leadership issues, and in particular on research into the organisational conditions of managers and leaders for a long time.
"There is quite a lot of knowledge about what constitutes good leadership and what its effects are. When you look at leadership, you can look at it from two angles: how to strengthen leadership by developing the skills and abilities of individuals, and how to create an organisation where managers are in a position to implement the leadership that you think is ideal. It is the latter that I have been most interested in, i.e. the interaction between the individual and the organisation and how this affects leadership."
His interest in leadership issues was sparked when he trained as a reserve officer in the mid-1990s. This was followed by a degree in human resources before he started his PhD in psychology at Stockholm University in 2008.
"But my thesis wasn't actually about leadership at all. I was looking at employability and mobility, but here too contextual factors and individual motivations were important. I've always been curious about working conditions and what creates barriers and opportunities for individuals."
This interest in work and organisational issues led on to research on leadership, management and power.
"After all, work is something that affects most people. It takes up a large part of our waking hours and for many of us it is an important part of our identity, so how can you not be interested in these issues?"
Curiosity-driven research
He stresses that curiosity is the main driver of research questions.
"To be honest, my biggest motivation is not what I want to achieve but that I want to know more. I'm incredibly curious and this is a dream job for me because I get to ask so many questions."
On the agenda for the future is an ongoing research project on how the organisational conditions of managers can be linked to the conditions of managers and employees.
"I have also started work on creating collaborations and writing research proposals here at the Swedish Defence University. I am also interested in looking more closely at the concept of trust and the importance of trust in collaborative issues, both at different levels of the organisation and between different actors."
Interdisciplinary collaborations
He hopes to help create internal collaborations and develop interactions with researchers at other universities.
"I have always worked in an interdisciplinary way and am used to networking and collaborating with other universities and colleges, which I hope to develop here as well."
Another issue close to my heart is postgraduate studies and how to create the best possible environment for postgraduate students.
"I am very passionate about postgraduate study issues. Having a good postgraduate environment will be very important for the Swedish Defence University in the future and how we can develop postgraduate studies in our subject is an important issue."
Josefin Svensson
In brief
Title: Professor of Leadership
At the Swedish Defence University since: August 2021.
Current projects: Article in Frontiers in Psychology: From Believing to Doing: The Association Between Leadership Self-Efficacy and the Developmental Leadership Model
Free time: Lots of soccer - both watching and being the leader of my daughter's soccer team.
Last book read: Flocken by Johan Anderberg.
Hidden talent: Quite handy. I do a lot of carpentry whenever I have time.
Discussion topics: All sorts of social issues, and soccer of course!
My motivation as a researcher: Above all I am very curious. There is so much to discover and understand about organisations and leadership.