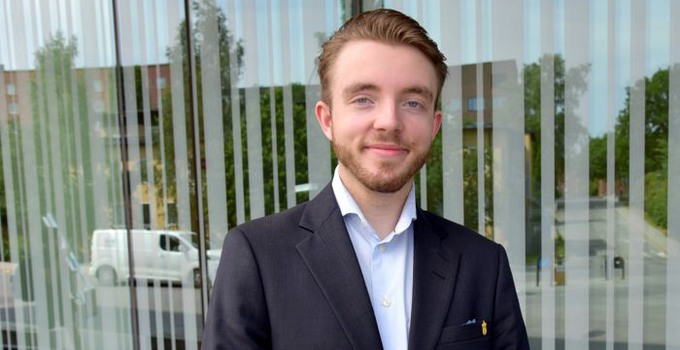 Gustav's first year of the Master's Programme in Political Science
Gustav Christensson let his keen interest in foreign and security policy determine his choice of studies. It led him to the Master's Programme in Politics, Security and Crisis. He is driven by a clear goal for the future: Middle East-oriented work abroad with a focus on issues related to security policy, religious extremism, and terrorism. He is taking one step at a time to reach his dream.
Why did you choose the Master's Programme in Political Science?
"I've always been very interested in foreign and security policy, and I chose the Swedish Defence University because of its outstanding reputation in the field. I have a Bachelor's degree in Political Science from Linnaeus University and I have studied history there as well. So, when I was ready to pursue my Master's, the Swedish Defence University was my first choice. I was accepted to a few other schools, some abroad as well, but the Swedish Defence University is quite unique, even from an international perspective. Here, the civilian side of academia meets the military. That is not the case in many places."
What is the atmosphere like at the Swedish Defence University?
"The school is very open and welcoming. I spend a lot of time with students in the bachelor's programme in military history and we socialize regardless of programme. The Mess is a fantastic meeting place to meet both civilian students and officer students."
Tell us about your class.
"It's difficult to get accepted, so everyone is very knowledgeable, so that makes our exchanges very rewarding. It's a cool feeling. I have never been to a university or a school where my fellow students can nerd out on the same subject and are interested in the same things that I am. We are a mixed bag. Some have a bachelor's degree from the Swedish Defence University, but many come from other universities. There are Swedes who have studied abroad, foreign students, and exchange students in some of the courses. It is always fun to get several different perspectives, especially international perspectives. In our class, we have had students from Denmark, USA, Iceland, and Brazil. Everyone shares a general and overarching interest in the topics, but then we also have our individual areas of interest."
How are the teachers in the Master's Programme in Politics, Security and Crisis?
"I'm super happy with the programme as such. The courses we have taken were very specialized. And the teachers... They are all at a very high level. I joke with my family back home in Växjö and say that all the experts you see on TV come from here. All of them are experts. With teachers who are so specialized and interested in their subjects, and who are also very accessible to students, it sets the stage for high-quality education. They continue to be accessible to us even after completing the courses. Just get in touch – they really want to talk to us."
During the first semester of the programme, there was a scenario-based exercise using wargaming. Please tell us what you appreciated about it.
"Wargaming week – you don't really get that at other universities... The training becomes real. We had a scenario-based exercise for a whole week, where we were assigned roles within China, Russia, and the United States. It's special, you notice how quickly you can transition into your role. It was very rewarding to experience each country's completely different worldview based on the role everyone was given. I was part of the Ministry of Defense of Russia. When the week started, one might not have expected that Russia would use tactical nuclear weapons, but that was actually the case."
"One insight from the exercise was how much the perceptions and objectives of each country's foreign, defence, energy, and trade ministries can differ. You have completely different motives for why you want to do something and can want such different things. We were able to gain a deeper understanding. Another concrete thing we learned was the importance of the small print parts of the agreements. Without that understanding, a letter may be open to two completely different interpretations, and that is what allowed us to use tactical nuclear weapons. Because "nuclear weapons" are not the same as "tactical nuclear weapons," are they?"
What do you find most challenging about the master's programme?

"On the one hand, of course, the requirements and level of education are very high. The requirements are completely different from previous studies. It is inherent that we must step up when it comes to that part. For my part, in parallel with my spring semester studies, I have taken part in an internship at the Swedish Institute of International Affairs that ran at 100%. It has been stressful but very rewarding. I applied for that internship outside of my studies and I was in their MENA program."
Tell us about your great interest in the security policy of the MENA region. Where does it come from?
"I'm simply very interested in the Middle East. On the one hand, there is the historical perspective. I am interested in history and became interested in that region early on. I have friends who come from different countries in the Middle East like Afghanistan, Iraq, Iran, etc. In addition, I am interested in security policy and foreign policy. The Middle East has been a powder keg where things happened throughout my childhood. I want to be able to better understand those events."
In the coming semester, you will write your master's thesis and after that an internship semester awaits. What are your thoughts right now?
"The teachers have been available, and I have been able to bounce off essay ideas, including with Niklas Karlén. He was my teacher in a course on proxy wars, which I will probably write about. Then I have some hopes of going abroad for an internship. I hope that Sweden can become a NATO member because I would like to apply for an internship within NATO. But I will seek different places and keep many doors open."
You have a great drive and are ambitious. What is your driving force?
"I want to strive high, but what is really important to me is to keep the curiosity and humility in life. For example, I think it is important to be humble and have great respect for your fellow students. Positions and opinions I have held for a long time can be changed with good arguments. Moreover, I have become well versed in expressing my understanding of various topics."
"Above all, I want to stay curious and humble when meeting new people in various settings. It is something I greatly enjoyed and appreciated when I first arrived here. If someone needs help with something, people will help. It benefits everyone. It's the closest thing to a motto or a rule of life I can get."
What do you want to do after the master's program?
"At some point, I want to go abroad, and I want to work with issues related to, for example, the Middle East, security policy, religious extremism, and terrorism. I am attracted by the concept of think tanks or research institutes specializing in the Middle East. But then I you still have dreams involving Säpo (The Swedish Security Police) and MUST (the military intelligence services) ... I want to keep all doors open, even pursuing a Ph.D. I would love to learn Arabic and will look into how I can accomplish that. You know, putting all the pieces of the puzzle together."
What tips do you have for those who are about to start the master's programme?
"Take part in everything the school has to offer. Go when the school arranges open seminars and be at the Mess to socialize, network, and talk to the officers and the other students. Spend time with the foreign students who study entire programmes, but also with the exchange students, because they will undoubtedly have perspectives that are very interesting. I am still in contact with the exchange students from last semester, and they are also part of a large and cool network with contacts for the future."
As a master's student, Gustav was a finalist in a global NATO competition
Page information
Published:

2023-08-30

Last updated:

2023-08-30