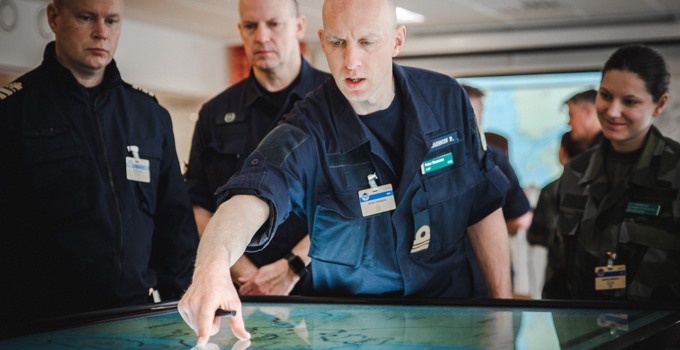 We educate and train executive and strategic leaders in how to deal with the most difficult crises that can affect society.
Historically, our programs have turned to executive and strategic leaders in government agencies, the military and the private sector. The return to total defence planning has broadened our target group. Knowledge gaps have been identified and consequently educational needs have increased as the government authorities have received more responsibility. Our goal is to be the hub for building and strengthening knowledge and expertise within total defence and societal security at large.
Unique educational experience
The Centre for Societal Security offers a number of unique programs and courses that address the Swedish crisis management system, total defence, risks and threats, legal issues, information management, cyber security and national security, to name just a few. What distinguishes our education from the others is that our course instructors are both researchers and practitioners, both military and civilian. This is evident in the course curriculum and the list of participants. You will be able to hear presentations of current events and share reflections from those who have been responsible for managing them. You will also be able to take part of current research and expand your own professional network.
Relevant and valuable knowledge
We work closely with our clients in order to be able to deliver useful knowledge to those working most closely with societal security issues. Our educational efforts focus on the long-term, providing continuity for staffing and the ability to acquire and utilise new knowledge. Our courses are aimed at executive and strategic leaders as well as managers who in their everyday professional work need to be knowledgeable of crisis preparedness and management, total defence, and civil-military cooperation as well as of the relevant policies for these areas. Our international courses are aimed at parliamentarians, diplomats, academics, civil servants and military personnel with a professional interest in society security and civil emergency preparedness.
Educational partners

Many of our courses are conducted on behalf of the Swedish Civil Contingencies Agency (MSB), the Swedish Armed Forces and within the framework of NATO's Partnership for Peace Program (PfP). We can also conduct training opportunities tailored to your organization's needs. In addition to full courses, we can provide lectures, seminars, or workshops.
Security Issues
Most of our courses require that you are formally registered as a participant and are security-tested in the lowest security class (3).
Strategic Leadership in the Global Societal Security Programme (SLP)
During the pandemic we assessed and evaluated our international courses in terms of content and pedagogical approach. Our effort was to create an educational progression of our international courses into a comprehensive international strategic leadership program, which will consist of several different modules.
Consequently, our previous senior courses in security policy in Europe and in crisis management and comprehensive security have been further developed and are being replaced by modules in the Strategic Leadership in the Global Societal Secuiry Programme.