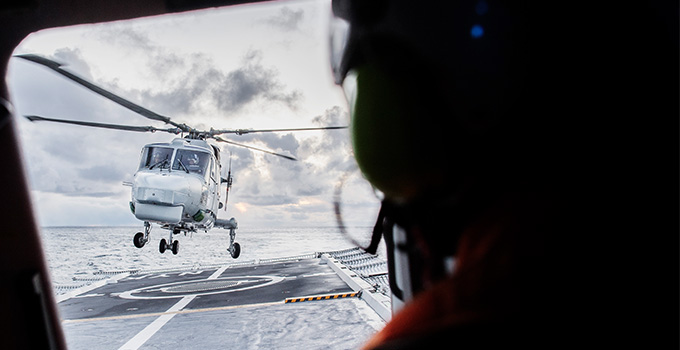 Innovation, Defence and Security — two-year master's programme
This programme is unique in Europe. It was developed as a response to a demand for a partially new profession that supports communication between developers and users of systems in the defence and security industry. The programme focuses on analysing complex problems and possibilities from a systems perspective.
Note that Innovation, Defence and Security is the new name of the Master's Programme formerly named Defence and Security Systems Development.
If you are looking for an analytical and creative job where you create new, smart solutions, this might be the programme you are looking for. It focuses on development and innovation for a stronger defence and strengthened security.
The programme was developed in close collaboration with government agencies and companies in the defence and security sector and provides an understanding of how technical systems are integrated with people and organisations to work in complex threat environments.
Degree of Master of Science in Systems Science for Defence and Security
Systems Science for Defence and Security is an interdisciplinary field in the intersection between engineering science and social science. The field has a sociotechnical focus and studies how complex technical systems for defence and security are initiated and designed in an interplay between technology and people.
Innovation, Defence and Security is a two-year international programme that leads to a Degree of Master of Science in Systems Science for Defence and Security. All courses are taught in English.
Future career opportunities
When you begin your professional career after graduating from the programme, you will most likely have a key role in development projects, and later in your career, you will be suited for leadership roles overseeing your organisation's programmes and processes.
There are positions in your national government agencies or companies in the defence and security sector, in the crisis preparedness sector on municipal, regional and national levels, or at companies operating in critical infrastructure sectors, such as energy, communications and transport.
The programme has a holistic perspective that leads to opportunities outside the sector – there are no limits to where your knowledge and competence can be applied.
Examples of possible professional areas after graduation:
System development
Analysis work for agencies and companies
Capability development
Technology development
Risk management
The programme meets entry requirements for national and international Ph.D. studies.
Collaborations
The master's programme Innovation, Defence and Security was and is being in collaboration with the following government agencies, companies and organisations:
BAE Systems Hägglunds
Consoden
FMV, the Swedish Defence Materiel Administration
The Swedish Armed Forces
Knowit Defence Technology AB
The Swedish Coast Guard
Saab AB
SME-D (Small Medium Enterprises within Defence)
SOFF (Swedish Defence and Security Industry Organization)
About the programme
The programme focuses on understanding systems that contribute to or affect a society's defence and security, how such systems are developed and used, and how technical and social components interact within these systems.
The main field of study is Systems Science for Defence and Security, an interdisciplinary subject with a sociotechnical perspective that uses systems analysis as its primary problem-solving strategy. Methods and theories from fields such as social science and engineering will also be applied.
You will study the prerequisites for developing, procuring and using technology and material that provide defence and security capabilities. The needs of the nation-state are crucial when making decisions regarding systems and requirement specifications. Additionally, the studies take into consideration the demands of each unique activity – for example, armed conflict and physical environments – but also to traditions, antagonistic threats and international law. The ability to meet these specific needs is often limited by several factors, primarily financial and industrial. You will therefore learn to critically review, evaluate, analyse and communicate needs, requirements and technical solutions pertaining to defence and security capabilities.
Your lecturers conduct active research in defence systems or related fields, and the programme was implemented in close collaboration with the defence and security sector.
The Swedish Defence University has well-established cooperations with the Swedish Armed Forces, the Swedish Defence Materiel Administration (FMV), the Swedish Civil Contingencies Agency (MSB) and private-sector stakeholders who contribute to the programme and provide opportunities for internships at relevant workplaces.
Programme outline
The programme combines individual studies, lectures and seminars with exercises and the opportunities for internships. The first year focuses on a solid theoretical base in defence systems, scientific methods and systems development work.
During the second year, you will enjoy being able to choose your own specialisation in elective courses, either at the Swedish Defence University or the higher education institutions we collaborate with.
Leadership in the Officers' Profession (7.5 ECTS credits)
Introduction to military thinking (7.5 ECTS credits)
Theory, Systems Science for Security and Defense (15 ECTS credits)
Methods in Systems Science for Defence and Security (15 ECTS credits)
Strategic Management of Capability Development and Defence Acquisition (7.5 ECTS credits)
Elective course (7.5 ECTS credits)
Usability and Design of Interactive Systems (4.5 ECTS credits)
Introduction to International Law, War and Technology (3 ECTS credits)
Master's Thesis, Systems Science for Defence and Security (30 ECTS credits)
Elective courses (3x7.5 ECTS credits)
Examples of elective courses:
Cyber operations in an antagonistic environment (7.5 ECTS credits)
System perspectives on total defence (4.5 ECTS credits)
Threat and risk analysis (7.5 ECTS credits)
Critical security studies and technology (7.5 ECTS credits)
Logistics for defence systems (7.5 ECTS credits)
Tactical and ethical aspects of autonomous systems (7.5 ECTS credits)
Internship (12 or 15 ECTS credits)
The range of elective courses will be determined on an annual basis.
Student exchange schemes
The Swedish Defence University takes part in the Erasmus programme, which allows our students to spend a semester of their master's training at a university abroad. Being an exchange student is an excellent ways of broadening one's perspectives and acquiring new experiences at prestigious universities such as the University of St Andrews (Scotland), Sciences Po (France) and the University of Bologna (Italy). Our partner universities offer a wide selection of relevant courses, which means that your master's degree may come to include several different specialties. Read more at our study abroad webpage on the Student Web.
Application
When applying upload all the documentation necessary to support your qualification for the programme. All supporting documents must be uploaded by February 1 2023 latest.
Personal letter
You should upload a personal letter in English, maximum 500 words, describing why you are applying for the programme and your assessment of how your previous education and/or professional experience can contribute to the defence and security sector after graduation.
Grade point average (GPA)
You shall upload a separate summary sheet stating your average grade. It must contain the following four parts:
1. Calculated average grades
The average grade can be calculated from your grades in your bachelor's degree.
Average grade = (The sum of (course grade x the course credit)) divided by total amount of course credits in your bachelor's degree.
If your course grades are given as letters, formulate them as numbers. Example: Grade scale A-E, where E is the lowest passing grade: A=5, B=4, C=3, D=2, E=1.
2. Minimum passing grade in your local grade system
3. Maximum grade in your local grade system
4. Confirmation that you confirm that the above information given is true and correct as to the best of your knowledge
Many diplomas from international universities already have calculated values and then it is enough to state the GPA (Grade Point Average) value directly.
Extended deadline for Mathematics
Proof of Mathematics 3b or 3c has an extended deadline to August 1 2023. If you intend on completing mathemathics and physics after February 1 2023 you need to mention that you are actively completing these subjects in time for August 1 in your personal letter.
Application period opens October 17, 2022 and closes January 16, 2023.
Application fee and scholarships
Students coming from a country outside the EU must pay an application fee of 900 Swedish kronor and a tuition fee of 105,000 Swedish kronor per year. However, students from outside the EU may also apply for scholarships to cover the cost of tuition. Read more about the scholarships available at the Stockholm Defence University.
Obtain more information about our Master programme
Please fill out this form, we will get back to you in a few days.
Starting Term
Autumn Term 2023
Study Period
2023-08-28 -- 2024-01-14
Requirements
A bachelor's degree with a minimum of 180 credits. The degree should include a documented, graded, written thesis project including a minimum of 15 credits, or equivalent. The degree should be in either social sciences, engineering science, natural science or other relevant area or subject. There are additional requirements for proficiency in Mathematics equivalent to Mathematics 3b or 3c, alternative Mathematics C, and English equivalent to English 6/English B. Certain elective courses have specific entry requirements in order for the student to benefit from the education.
Language of Instruction
The teaching is conducted in English.
Courses
Contact

If you have questions about the course, please contact the Study Counsellors.
You can reach us by e-mail: masterprogramme@fhs.se
Discover the Swedish Defence University
Marika Ericson is a professor in the programme Innovation, Defence and Security. Her focus is on cyber operations and technological warfare from a legislative perspective, an area that encom...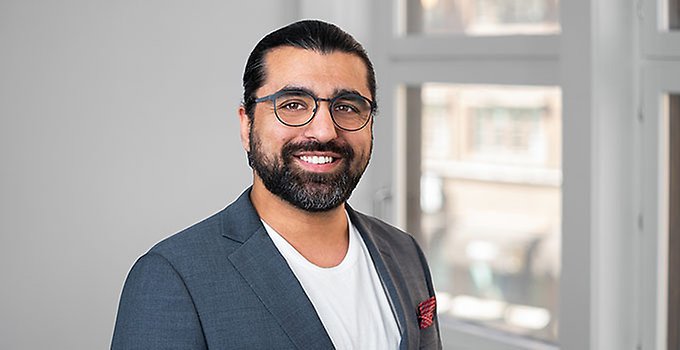 Max Güclu is a student on the two-year Master's Programme Innovation, Defence and Security at the Swedish Defence University. He tells us more about the programme, which is aimed at engineer...
Studies at Swedish Defence University - a both civil and military university - offers a completely different experience compared to most other universities.