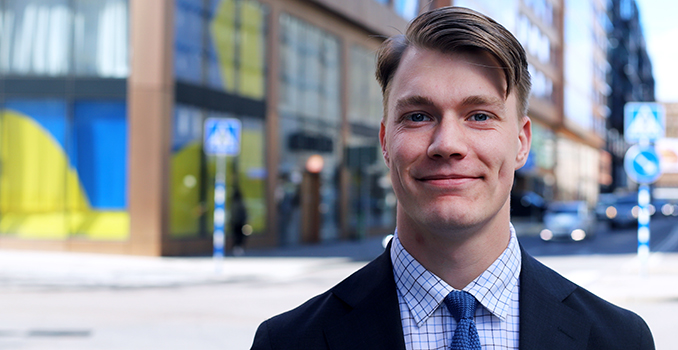 Internship at the Government Offices of Sweden
Hugo Hedén found the Master's programme Innovation, Defence and Security while seeking the interface between different knowledge areas and a way to be where the "circles meet." His internship was at the Government Offices of Sweden, where he received the perspective from the political and policy side in a historic period with Sweden is on its way into NATO and an increased defence budget.
Hugo Hedén found the Master's programme Innovation, Defence and Security while seeking the interface between different knowledge areas and a way to be where the "circles meet." His internship was at the Government Offices of Sweden, where he received the perspective from the political and policy side in a historic period with Sweden on its way into NATO and an increased defence budget.
Hugo Hedén has always had an interest in defence and security. He has studied at civilian universities, graduated as an officer from the Swedish Defence University but still felt that he was not finished with academic studies. That feeling was reinforced during his thesis work for the Officers' programme.
"My thesis during the training for officer examined whether you could apply the military strategic theory "the enemy as a system" in the cybersecurity context. Here I got a taste for continuing my studies, and taking responsibility for a product of my own. I've always had the desire to look for that which you haven't thought about. I felt clearly that I wanted more of that."
Looking for the interface between circles – and finding it
Hugo Hedén looked at SEDU's different Master's programmes. Subjects such as military history, political science and leadership were interesting. Meanwhile, he noted that he had always been interested in technology, security and defence policy and in social aspects.
"I was searching for a Master's programme that was at the crossroads between various knowledge areas and found the Master's programme Innovation, Defence and Security. That was precisely what I was in search of – the interface and place where I could combine and benefit from my personal interests, a way to be right in between these fields where the circles meet."
Information transfer in a compartmentalised time
Hugo Hedén returns to this point of interface. Among friends in academic studies, he sees that many gain deep cutting-edge expertise in their areas but that this knowledge is compartmentalised and screened off from other areas of knowledge. The common path is that you in your professional life gather experiences that help you broaden your perspective and discover how specialised areas of knowledge can be applied in other areas.
"At the Master's programme we enter from the other direction. We have a number of problems in society that need to be solved. And we have all these cutting-edge skills. How do we reach greater effect where the sum of the various parts is greater than each part?"
He says that it is clear that information transfer and the sociotechnical perspective is needed, especially when society faces more challenges than before. He mentions electricity supply as a concrete example.
"In securing the electricity supply you need to consider several factors, such as the interaction between social aspects, human behaviour and technical solutions or, in other words, process and technology. Which solutions have been found and how can be combine these?"
"You're expected to have your own perspective"
Hugo Hedén belongs to the second student group in the relatively new Master's programme innovation, Defence and Security. That his classmates have varying backgrounds – political scientists, engineers and officers – mean that seminars and discussions develop in a different manner than during Bachelor's studies.
"You're expected to have a perspective of your own. It's also assumed that you can write and perform on a higher level. The focus is rather on how you convert knowledge and how you argue in favour of the perspectives or solutions. The Master's programme is very interactive. Our discussions drive the development of each and every one of us, which is very rewarding."
In the programme there are several elective courses. Hugo Hedén chose, amongst others, a course in cybersecurity, which opens opportunities to work with these issues.
"I would say that the courses create prerequisites. You don't become an expert but you gain a good understanding of which threats companies and government agencies presently face, an understanding of networks and the modus operandi of actors."
Network for the future
Sweden is not that big a country and, in some manner, you usually bump into one another in various situations, perhaps especially so in the relatively limited defence and security sector. That is how Hugo Hedén thinks with regard to the networks he obtains through SEDU.
"Later on, my classmates will advance in organisations and it feels pretty clear that they will reach some kind of management level. Having a dialogue from the outset feels good. I also include our lecturers and visitors from the business community in the network. At SEDU, you're not one of three hundred in a lecture hall, you have personal contacts. That, you bring with you."
Master's thesis at SEDU
When it was time for the thesis, the Department of Systems Science for Defence and Security at SEDU asked him whether he might be interested in writing about the systems perspective on airborne electronic warfare systems. He was, and analysed how to perceive interaction between threats and counterthreats within the telewarfare sphere from a systems perspective.
"There isn't a lot published in this area. The thesis can contribute to further academic research so that not all information is carried out privately and inaccessible in confidential documents. It's been tremendously challenging and gratifying to break new ground."
Internship at the Government Offices
Following his first two terms, he had internship experience from BEA Systems Hägglunds, which produces combat and all-terrain vehicles. In addition, he has experience from the Officers' programme. All in all, Hugo Hedén felt that he had a reasonably good overview of which issues that parts of Sweden's defence face, how they train and how they operate.
When the internship term was approaching, he therefore pondered what he did not know enough about and needed to add.
"When you've gained new perspectives, well then you want the next. What I was very curious about was the political and policy-driven aspects. Which are the issues, in practice, in government agencies? How does a day look like at the Ministry for Foreign Affairs or the Ministry of Defence? How is the dialogue and collaboration with, for example, the defence industry, which have their priorities and objectives? It seemed obvious that this area encompasses incredibly fascinating issues."
These ideas led to the Government Offices –­ and an internship
"The Master's education itself sparks curiosity among others externally. Who are we with a hand in several cookie jars that wish to combine several perspectives? My manager at the Government Offices told me that they were very pleased with me and with the programme in view of the challenges that society faces. That was great to hear. The Master's programme is needed, this was correctly decided by SEDU."
Received the insights he wished
Hugo Hedén's internship was partly at the Unit for Materials Research and Development at the Ministry of Defence. He handled matters when agencies send request and proposals, administering these matters though the entire decision-making process with internal and joint processes and subsequently suggesting a proposal for decision. He also co-authored a compilation of views following the publication of the Government's Cyber Security Inquiry. And that was carried out in what must be considered historical times with a coming Swedish membership in NATO and an increased defence budget.
"It's incredible timing and interesting issues and discussions when the defence budget increases to two percent of GDP. How, in practice, is that realised? It's not just a question of purchasing systems and hiring more people – the two parts need to be joined."
He says that the questions are reminiscent of and touch upon something the Master's programme is highly focused on. It is not sufficient that one part, component or variable functions optimally. If it cannot exchange information or collaborate with other parts the effect is suboptimal. He notes that in this case everything from industrial policy and security policy to practical issues such as domestic resources, diplomacy and how to ensure knowledge enhancement with investments in higher learning institutions and critical technologies meet.
"How do you create the prerequisites for Sweden's defence? What does that, in practice, entail? That is the biggest question here at the management level at the Government Offices. These are questions that we've discussed in a sheltered university environment. It's really interesting to come to the real world and discover which parts of the theory are in accordance with reality."
Thoughts for the future
Hugo Hedén says that the Master's programme has opened very many doors. He sees an opportunity to return to the Swedish Armed Forces and work with development issues there. He also sees opportunities in the private sector, either in the defence industry or with cybersecurity. There are also possibilities to work in policy decision-making organisations, especially with the change that membership in NATO brings about.
"This entire sector will grow and they all need skilled people. I could consider working internationally with NATO issues, with security policy, research and development issues. But the Ministry of Defence is also interesting. I'm fascinated by cybersecurity, which is one of the greatest challenges of our time. I have an idea about where I want to head and how to get there. But it all calls for experience and this is my first step – to make use of all parts of my education and build upon my experiences."
Master's programme in Innovation, Defence and Security
Note that Innovation, Defence and Security is the new name of the Master's Programme formerly named Defence and Security Systems Development.
Page information
Published:

2022-07-14

Last updated:

2023-10-19