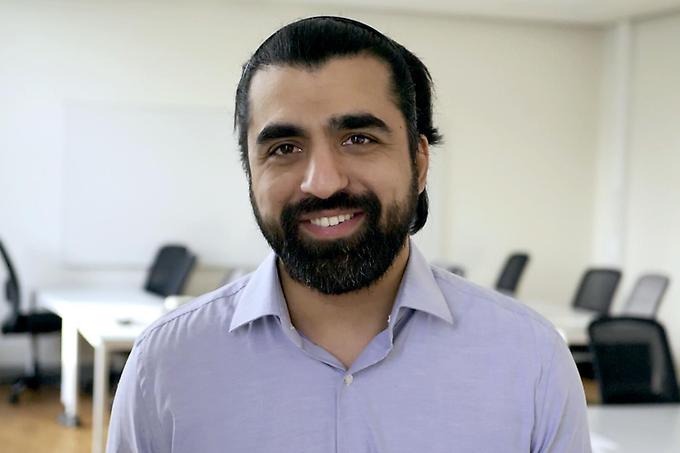 Systems development for a more secure society
Max Güclu is a student on the two-year Master's Programme Innovation, Defence and Security at the Swedish Defence University. He tells us more about the programme, which is aimed at engineers, officers and social scientists interested in systems development and in working in the defence and security sector.
"If you want to work in the defence and security sector, like systems development and a comprehensive perspective of how things are connected, then I think you should take a closer look at this programme. You do not even need a military background to be accepted."
Public benefit and interest in defence
Max Güclu was in the Bachelor's Programme in Air Transportation and Logistics at Linköping University, hoping to work within the civil aviation sector. But a friend's interest in defence matters started to rub off on him.
"I started thinking more and more about the public good, how I can contribute to a more secure society on the whole. I spent some time thinking about becoming an officer, but at the same time, I wanted to start working after getting my Bachelor's degree, so I made my way to SAAB Aeronautics and the Gripen E Project."
But then something happened?
"Yes, after working there for about a year, I saw a news item on the SAAB intranet talking about a Master's programme at the Swedish Defence University that SAAB had helped develop. Defence and security systems development. I immediately became curious, but also uncertain. Studying at the Swedish Defence University felt a little out of my league, and I didn't have any military background at all, so could I even apply for the programme? But having looked at the entry requirements and after reading all there was about the programme on the Defence University website, I realised that it wasn't just engineers and officers who could apply, but technicians and social scientists might also be eligible depending on their education. So I applied."
And now you are here! Tell us about the programme!
"It is incredibly rewarding! For example, we have taken officer-related courses and courses in leadership to gain a better understanding of the military context, how to think on a strategic, operative and tactical level. As future systems developers in the defence and security sector, it is of course important to understand who will be using the systems and what the user's situation might look like. If it is not intuitive to the user, you will not achieve the desired effect. And it is of course also necessary to speak the same language. If a person in the military talks about strategic or tactical advantages in a certain context, I need to understand what they are referring to."
"We also study system and methodology, everything from Living Systems Theory to Gaia, and of course also how to write and critically analyse scientific texts."
Labour market relations
The programme's third and fourth semesters are flexibly structured based on whether the student wants to do an internship or take additional elective courses.
"I am fairly certain that I will do an internship and then relate my Master's essay to current problems. I have already been in contact with several government agencies, so a dialogue has been initiated."
Have you noticed the programmes industry relations?
"Yes, quite a lot! Both private and public actors in the sector have held workshops at the University and it is apparent that graduates rom the programme are in demand. You feel sought after. Right now it feels like I will not have any trouble finding a job, the problem is rather choosing which one. There is also the opportunity of moving on to third-cycle studies after graduation."
What are the teachers at the programme like?
"Well, in a way, that is another connection to the industry that you feel extremely privileged to benefit from. In addition to civilian academics, we also have professional officers as lecturers. Many of them have been involved in writing defence doctrines, made budgets for the Swedish Armed Forces and led military operations abroad. There is no doubt that we have access to the most cutting-edge knowledge in the field."
Where do you see yourself after you graduate?
"As a developer or project manager within the sector. I have been looking towards the Swedish Coast Guard quite a bit, but also the Defence Materiel Administration. After all, we are studying defence and security systems development, and systems development can be applied to pretty much every field, it is that encompassing. But what I do know is that I want to work with something that helps create a more secure society."
Lastly, who do you think should apply for this programme?
"If you are a person who likes having a helicopter view, who wants to understand how things fit together and how to develop usable systems, I think you should have a closer look at this programme. Since it is aimed at the defence and security sector, you should also have an interest in that particular industry."
Page information
Published:

2020-02-25

Last updated:

2023-10-19