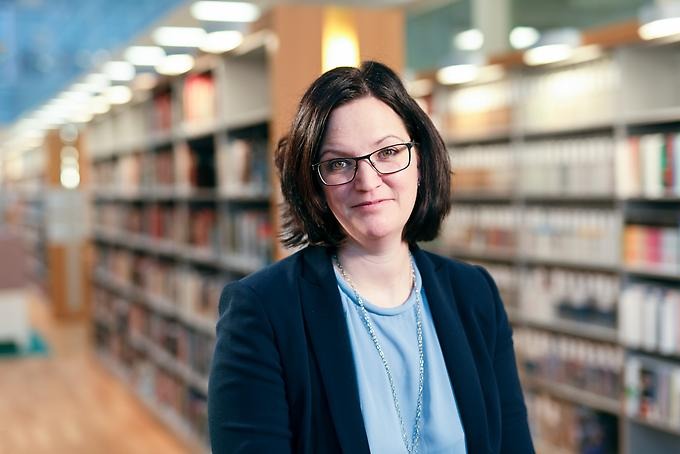 With a civilian and military perspective
Marika Ericson is a professor in the programme Innovation, Defence and Security. Her focus is on cyber operations and technological warfare from a legislative perspective, an area that encompasses both law and engineering.
Marika Ericson is working on a dissertation that is about how in legislation, both internationally and domestically, to establish boundaries between peace and war and how to split up the military and police mandates and powers in accordance with it.
"Cyber operations is a phenomenon that makes those boundaries difficult to maintain in practice. I analyse how legislation works, or does not work, when the Police and Armed Forces are faced with cyber operations", says Marika Ericson.
She will teach advanced courses as a part of the new master's programme Innovation, Defence and Security, where students will focus on questions around law and engineering. The master's programme consists of 120 graduate credits with full-time study at the Swedish Defence University in Stockholm and provides a master's degree in defence systems, a subject that is both civilian and military.
"For me, the most interesting part of the subject of defence systems is the combination of engineering and social factors as well as the military and civilian perspective. I am an attorney, not an engineer, but I work in a field that is characterized and affected by technological development and the use of technology. That is why I see a clear need for people who can combine knowledge and understanding of both engineering and social factors in a better way than what is normally the case today", says Marika Ericson.
Good starting point for future careers
At a time when more and more in society is based on or builds on technology, it also demands technology that takes into account and understands the society's needs. Therefore, competency in the field of defence systems is both important and in demand. The subject provides knowledge of how engineering and social factors cooperate in a system that affects society's ability to meet complex threats.
"Obtaining tools that function as a bridge between those who create the technology and those who use it is a very good starting point for future careers because those aspects are becoming more and more important to build up in our society. The technology must also relate to the softer values. That is when the translators, or bridges, become very important."
Lack of overall view is a security problem

An example of how something can develop into a security problem if technological development only focuses on an innovative technological solution is the development of the internet, says Marika. The priority, in the beginning, was the possibility of a free flow of information between parties that already knew each other. The group who had access to the system and the information was limited and an important building block was that everyone could contribute to the further development of the technology and flow.

The openness and what we see today as a lack of security thereby filled a purpose. A personal interpretation is that the first developers of the internet did not think about security or could see the potential of how the internet could spread into society and affect all our structures and all people's communication and information. We are now trying to implement security, after the fact, instead. What if that perspective was there before when they could have dealt with some of the problems that are now difficult to solve, says Marika.
Three quick questions for Marika Ericson
How would you describe the subject defence systems?
"Defence systems combine a civil and a military perspective by providing knowledge of how technical and social factors interact in systems that affect a society's ability to deal with complex threats."
Who do you recommend apply to Innovation, Defence and Security?
"Someone who has a great societal interest and desire to understand different organizations and people's perspectives and needs. For you who are creative and solution-oriented generalists who think outside the box and want to contribute to the society."
What areas is the job market in?
"The education leads to professions that are in demand by authorities with the defence and security sector and by companies within important societal functions such as defence, energy, transport and infrastructure."
Master's programme in Innovation, Defence and Security
Note that Innovation, Defence and Security is the new name of the Master's Programme formerly named Defence and Security Systems Development.
Name: Marika Ericson
Title: PhD candidate at the Swedish Defence University.
Current: Marika teaches in the programme Innovation, Defence and Security..
Background: Marika Ericson has a background as a legal counsel within the Armed Forces and has even worked the Emergency Preparedness Authority (today the Swedish Civil Contingencies Agency (MSB) and the Swedish Red Cross, and has international experience from the Armed Forces and the International Red Cross Committee (ICRC).