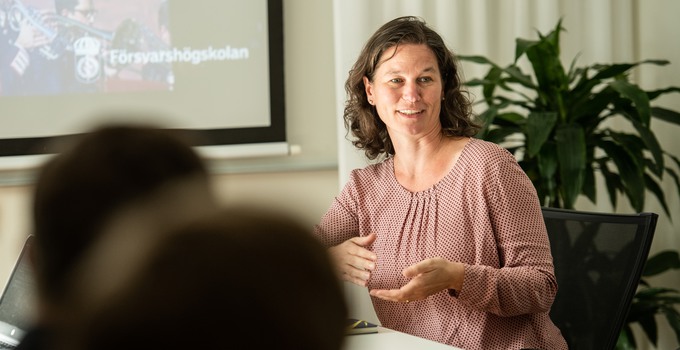 The Susan S. Northcutt Award to Annick Wibben
Annick Wibben has been awarded the Susan S. Northcutt Award by the ISA Women's Caucus. She received the award during the International Studies Association's annual convention in Montreal , 15-18 March.
Annick Wibben, Professor of War Studies at the Swedish Defence University, received the award for her original and pioneering research in feminist security, military and international studies; her significant contributions to the pedagogical development of the discipline; and her extensive service, in particular her support for and mentorship of women and other underrepresented scholars in international studies.
Feminist Security Studies
Annick Wibben is the Swedish Defence University's Anna Lindh Professor of Gender, Peace and Security. She has her research background in feminist security studies and has been involved in building up the field in the past 20 years. Today, feminist security studies have become an established interdisciplinary research field. It encompasses, among other things, studies of peace movements and rebuilding after wars and conflicts, which more traditionally are included in peace research.
The Susan S. Northcutt Award was established in 2003 by the Women's Caucus for International Studies to honor the Caucus' founder, Susan S. Northcutt. The award recognizes a person who actively works towards recruiting and advancing women and other underrepresented scholars in the profession, and whose spirit is inclusive, generous, and conscientious. While also, acknowledging someone who has made significant contributions through service and competence to the field of international studies and to the International Studies Association.
Read more about the Susan S. Northcutt Award in the International Studies Association's web page