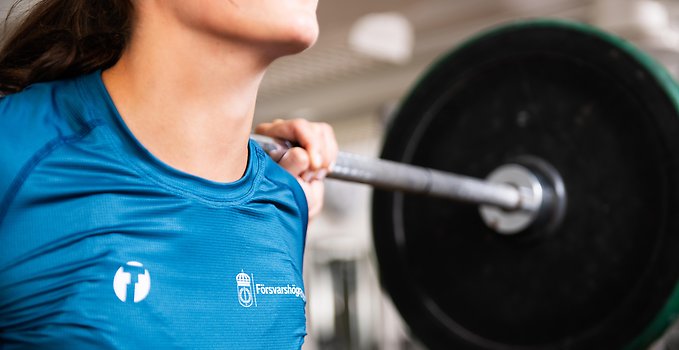 When you study hard, it can sometimes be difficult to find the time to look after yourself and your wellbeing. At the Swedish Defence University, we want to help you by offering great facilities for exercising, that you are welcome to use regardless of experience or training style.
Welcome to our training facilities
We have a gym, a cardio room and a gymnasium with changing rooms nearby. The gym and cardio rooms are located on the bottom floor of the old building. The gymnasium is located on the bottom floor of the main building.
The facilities are open for students Monday to Sunday 7.00-22.00.
Bookings
The gymnasium can be booked by contacting friskvarden@fhs.se. You can check the availability on the notice board by the changing rooms. Please note that your booking can be cancelled by our health and fitness staff. Military students have priority.
Organised classes
On weekdays, we offer a wide variety of organised training classes, such as yoga, core strength, spinning, tabata etc. The classes are open for everyone and no prior experience is required. You do not have to sign up in advance. Check the calendar below (in Swedish) or contact friskvarden@fhs.se for information about when the classes take place.
Rules
Since the training facilities are unmanned, we have a shared responsibility to make sure that the environment is pleasant for everyone.
Always bring your access card. The security staff regularly check that guests are authorised. You may be asked to prove your identity.
No unauthorised guests are allowed.
The Swedish Defence University is not responsible for lost valuables or forgotten belongings.
When you are done, put back weights and other equipment, clean these if necessary.

Show consideration for other guests when using the stereo.
Make sure to bring clean training clothes.
If you are the last to leave, turn off the lights and stereo.
Changing rooms and lockers
The lockers in the changing rooms are reserved for staff and military students. However, you are welcome to use empty lockers during the time you exercise.
Clothing and other personal belongings left in the changing rooms over a longer period of time will be thrown away. If you have clothing that you need to dry, you can use the drying room found next to the notice board until the next day.
Saunas
The saunas are open for everyone and are turned on by using the timer found outside of the door.
Training calendar